Before You Contact Us
Find your tool's model number and serial number so we can better assist you. The label on your tool may look different but will contain all the required information.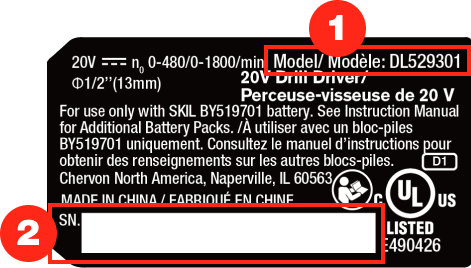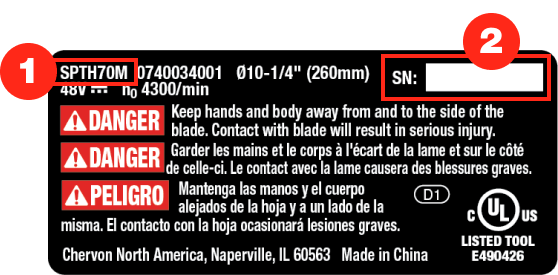 Get parts for select SKIL tools here.
Contact Us
For service in the United States and Canada, please call for live customer support:
1-877-SKIL-999 (1-877-754-5999)
Monday – Friday, 7am – 7pm (CST)
Find a Service Center
Please call customer service or the service center before bringing your tool in.
Service Type
Name
Address
City
State
Zip
Phone
Service Repair and Sales
AERO SERVICES
1915 Ada Street
Fairbanks
AK
99706
907-479-6666
Service Repair and Sales
AIR ELECTRIC TOOLS & SERVICE INC.
5603 E 3rd Ave
Spokane
WA
99212
509-534-3698
Service Repair and Sales
Albany Burner Control Inc
480 South Street
Rensselaer
NY
12144
518-459-8856
Service Repair and Sales
ALL TOOL SERVICE & SUPPLY
2716 S. Cherry Ave
Fresno
CA
93706
559-252-2879
Service Repair and Sales
Allied Industrial Supplies
# 2 -12 Prince Charles Street
San Fernando
TRINIDAD & TOBAGO
0
868-652 6900
Service Repair and Sales
Angus Valley Farm Supply
119 Beavers Road
Elm Mott
TX
76640
254-822-1842
Service Repair and Sales
Apex Saw Works
570 Kietzke Ln
Reno
NV
89502
775-329-3076
Service Repair and Sales
Auto Battery & Electric
1026 East 4th Street
Tulsa
OK
74120
918-584-5555
Service Repair and Sales
BANNER TOOL SERVICE
6741 N. 57TH AVE
Glendale
AZ
85301
623-842-0800
Service Repair and Sales
BERLANDS HOUSE OF TOOLS
1695 NEW LENOX ROAD
Joliet
IL
60433
815-722-2000
Service Repair and Sales
BERLAND'S HOUSE OF TOOLS
600 OAK CREEK DRIVE
LOMBARD
IL
60148
630-620-0026
Service Repair and Sales
Bowtie Holding DBA Trade-N-Tools
1548 S. Hwy 97
Redmond
OR
97756
541-382-0653
Service Repair and Sales
Bradley Tools & Fasteners
6250 NW Beaver Dr Ste A4
Johnston
IA
50131
515-331-0878
Service Repair and Sales
BRYAN ELECTRIC CO
424 West 25th Street
Norfolk
VA
23517
757-625-2525
Service Repair and Sales
BUENA TOOL COMPANY
422 LAGUNA STREET
Santa Barbara
CA
93101
805-963-3885
Service Repair and Sales
Builders Supply Co. Inc.
5701 S. 72 St
Omaha
NE
68127
402-331-4500
Service Repair and Sales
CASEY A A COMPANY
5124 NEBRASKA AVENUE
TAMPA
FL
33603
813-237-6561
Service Repair and Sales
CASEY A A COMPANY
4826 N Orange Blossom Trail
Orlando
FL
32810
407-298-4063
Service Repair and Sales
Central Colorado Tool Service
3005 Grandview Street
Colorado Springs
CO
80904
619-220-7111
Service Repair and Sales
Clarke's Tool & Equipment
6217 Goddard St
Shawnee
KS
66203
816-452-7873
Service Repair and Sales
CLARK'S TOOL
6217 Goddard
Shawnee
KS
66203
913-268-1271
Service Repair and Sales
COLONY HARDWARE SUPPLY
9950 Business Parkway
Lanham
MD
20706
301-967-2844
Service Repair and Sales
COLORADO FASTENERS *C
11450 N Cherokee Street
Northglenn
CO
80234
303-450-2833
Service Repair and Sales
COLORADO FASTENERS *C
34510 HWY 6
EDWARDS
CO
81632
970-926-3301
Service Repair and Sales
Contractor Sales & Services dba Auto Battery & Electric
1026 E. 4th Street
Tulsa
OK
74120
800-580-5556
Service Repair and Sales
Cornerstone Ace Hardware #15756
11550 N 129th E Ave
Owasso
OK
74055
918-553-6445
Service Repair and Sales
Custom Tool Repair
45262 Industrial Drive
Fremont
CA
94538
408-392-0685
Service Repair and Sales
D Low LLC
115 CHURCH STREET
O'FALLON
MO
63366
636-978-7513
Service Repair and Sales
Deko Factory Service
3048 Bloomington Avenue South
Minneapolis
MN
55407
612-721-6651
Service Repair and Sales
Elliott Ace Hardware #04968
11003 W. Oklahoma Ave.
West Allis
WI
53227
414-545-7759
Service Repair and Sales
EMPIRE TOOL TRADERS
6327 West 34th Street
Houston
TX
77092
(713) 957-8665
Service Repair and Sales
Eugene Power Tool Inc
101 North Seneca Road
Eugene
OR
97402
541-232-5081
Drop Off Repair and Sales
Fastenal
8050 Old Seward Hwy
Anchorage
AK
99518
Drop Off Repair and Sales
Fastenal
3501 Lathrop St Unit A
Fairbanks
AK
99701
907-455-8600
Drop Off Repair and Sales
Fastenal
34546 Business Park Frontage Rd
Soldotna
AK
99669
907-262-2214
Drop Off Repair and Sales
Fastenal
3000 East Palmer-Wasilla Hwy
Wasilla
AK
99654
907-373-2204
Drop Off Repair and Sales
Fastenal
1321 Wagner Drive Suite 100
Boaz
AL
35957
256-593-2767
Drop Off Repair and Sales
Fastenal
1813 East Three Notch Street
Andalusia
AL
36421
334-222-0844
Drop Off Repair and Sales
Fastenal
14980 Mary Alice Way
Athens
AL
35611
256-232-4934
Drop Off Repair and Sales
Fastenal
84 Industrial Blvd.
Attalla
AL
35954
256-570-0238
Drop Off Repair and Sales
Fastenal
115 East Veterans Blvd.
Auburn
AL
36832
334-887-8661
Drop Off Repair and Sales
Fastenal
381 US Hwy 11
Trussville
AL
35173
205-467-0210
Drop Off Repair and Sales
Fastenal
1031 19th St N
Bessemer
AL
35020
205-426-8046
Drop Off Repair and Sales
Fastenal
2821 5th Ave South
Birmingham
AL
35233
205-328-8684
Drop Off Repair and Sales
Fastenal
229 Regency Park Drive
Alabaster
AL
35007
205-621-8009
Drop Off Repair and Sales
Fastenal
765 County Road 437
Cullman
AL
35055
256-775-8342
Drop Off Repair and Sales
Fastenal
3108 Hwy 20
Decatur
AL
35601
256-355-1067
Drop Off Repair and Sales
Fastenal
1509 Hwy 43 South
Demopolis
AL
36732
334-287-0312
Drop Off Repair and Sales
Fastenal
446 Ross Clark Circle
Dothan
AL
36303
334-712-9546
Drop Off Repair and Sales
Fastenal
1152 Geneva Hwy
Enterprise
AL
36330
334-393-5525
Drop Off Repair and Sales
Fastenal
119 Hunters Inlet Rd
Eufaula
AL
36027
334-616-0890
Drop Off Repair and Sales
Fastenal
4326 Helton Dr
Florence
AL
35630
256-764-0183
Drop Off Repair and Sales
Fastenal
2350 Beck Industrial Blvd Suite A
Fort Payne
AL
35968
Drop Off Repair and Sales
Fastenal
6620 Hwy 43
Guin
AL
35563
Drop Off Repair and Sales
Fastenal
2603 Hwy 31 SW
Hartselle
AL
35640
256-751-2833
Drop Off Repair and Sales
Fastenal
111 Spacegate Drive
Huntsville
AL
35806
256-852-7710
Drop Off Repair and Sales
Fastenal
13246 Hwy 78 East
Jasper
AL
35501
Drop Off Repair and Sales
Fastenal
5775 Mobile Highway
Montgomery
AL
36105
334-284-6069
Drop Off Repair and Sales
Fastenal
3713 Lakeside Court
Mobile
AL
36693
Drop Off Repair and Sales
Fastenal
6235 Rangeline Road
Theodore
AL
36582
251-443-6047
Drop Off Repair and Sales
Fastenal
849 Lagoon Business
Montgomery
AL
36117
334-244-1989
Drop Off Repair and Sales
Fastenal
2300 East 2nd Street
Muscle Shoals
AL
35661
Drop Off Repair and Sales
Fastenal
1825 Hillyer Robinson Ind. Pkwy
Anniston
AL
36207
256-835-5904
Drop Off Repair and Sales
Fastenal
1214 Hwy 59 South
Summerdale
AL
36580
251-947-6002
Drop Off Repair and Sales
Fastenal
14285 Highway 43
Russellville
AL
35653
256-332-8133
Drop Off Repair and Sales
Fastenal
20990 John T. Reid Parkway
Scottsboro
AL
35768
256-259-1223
Drop Off Repair and Sales
Fastenal
906 McMeans Ave
Bay Minette
AL
36507
Drop Off Repair and Sales
Fastenal
621 Gene E Stewart Blvd
Sylacauga
AL
35151
256-249-6900
Drop Off Repair and Sales
Fastenal
311 Miles Pkwy Ste 101
Pell City
AL
35125
205-338-6052
Drop Off Repair and Sales
Fastenal
1266 Hwy 231 South
Troy
AL
36081
334-566-3278
Drop Off Repair and Sales
Fastenal
4020 Joe Mallisham Pkwy
Tuscaloosa
AL
35401
205-752-6101
Drop Off Repair and Sales
Fastenal
1205 North 10 St., Suite A
Arkadelphia
AR
71923
870-245-2227
Drop Off Repair and Sales
Fastenal
3000 Jennings Lane Suite F
Batesville
AR
72501
870-251-4222
Drop Off Repair and Sales
Fastenal
4940 N. County Road 791
Blytheville
AR
72315
870-763-7045
Drop Off Repair and Sales
Fastenal
1269 California Ave, SW
Camden
AR
71701
870-836-5911
Drop Off Repair and Sales
Fastenal
504 S. Crawford Street
Clarksville
AR
72830
Drop Off Repair and Sales
Fastenal
650 Robins St.
Conway
AR
72032
501-327-7273
Drop Off Repair and Sales
Fastenal
100 Ashley Lane
El Dorado
AR
71730
870-863-4800
Drop Off Repair and Sales
Fastenal
796 S School Ave
Fayetteville
AR
72701
479-442-2860
Drop Off Repair and Sales
Fastenal
1001 South 25th Circle
Van Buren
AR
72956
Drop Off Repair and Sales
Fastenal
2907 McKinley Avenue
Fort Smith
AR
72908
479-648-0331
Drop Off Repair and Sales
Fastenal
2365 Hwy 7 North
Harrison
AR
72601
870-743-1242
Drop Off Repair and Sales
Fastenal
141 Wilburn Road
Heber Springs
AR
72543
501-362-2245
Drop Off Repair and Sales
Fastenal
767 Mid America Blvd.
Hot Springs
AR
71913
501-760-6440
Drop Off Repair and Sales
Fastenal
5911 East Highland
Jonesboro
AR
72401
870-931-5424
Drop Off Repair and Sales
Fastenal
9500 Highway 5 N
Alexander
AR
72002
501-847-9985
Drop Off Repair and Sales
Fastenal
10300 Riverview Corporate Drive
North Little Rock
AR
72113
501-771-9380
Drop Off Repair and Sales
Fastenal
7520 Lindsey Road
Little Rock
AR
72206
501-490-2658
Drop Off Repair and Sales
Fastenal
600 Hwy. 425 North
Monticello
AR
71655
870-460-9444
Drop Off Repair and Sales
Fastenal
319 Highway 201 North
Mountain Home
AR
72653
Drop Off Repair and Sales
Fastenal
1794 South Highway 61
Osceola
AR
72370
870-622-0590
Drop Off Repair and Sales
Fastenal
802 Country Club Rd.
Paragould
AR
72450
870-236-1212
Drop Off Repair and Sales
Fastenal
7003 Sheridan Rd
Pine Bluff
AR
71602
870-247-5770
Drop Off Repair and Sales
Fastenal
1400 Hudson Road
Rogers
AR
72756
479-619-2798
Drop Off Repair and Sales
Fastenal
3943 East Main
Russellville
AR
72802
479-968-5932
Drop Off Repair and Sales
Fastenal
1208 South Benton Street
Searcy
AR
72143
501-268-8255
Drop Off Repair and Sales
Fastenal
617 J.P. Wright Loop
Jacksonville
AR
72076
501-982-2442
Drop Off Repair and Sales
Fastenal
1606 South Pointe
Siloam Springs
AR
72761
479-524-2266
Drop Off Repair and Sales
Fastenal
2324 E. Robinson Avenue
Springdale
AR
72764
479-750-2138
Drop Off Repair and Sales
Fastenal
1919 South Park
Stuttgart
AR
72160
870-673-0014
Drop Off Repair and Sales
Fastenal
479 Hwy 77
West Memphis
AR
72301
870-400-2047
Drop Off Repair and Sales
Fastenal
2570 Landon Dr Unit A & B
Bullhead City
AZ
86429
928-754-1800
Drop Off Repair and Sales
Fastenal
2463 N. Walgreens St. Ste A
Flagstaff
AZ
86004
928-526-5553
Drop Off Repair and Sales
Fastenal
1775 E University Dr. Suite 180
Phoenix
AZ
85034
602-243-1475
Drop Off Repair and Sales
Fastenal
75 W. Baseline Rd Suite 50
Gilbert
AZ
85233
480-632-2885
Drop Off Repair and Sales
Fastenal
21002 N. 19th Ave Suite 100
Phoenix
AZ
85027
Drop Off Repair and Sales
Fastenal
500 N 56th Street, Suite 3 & 4
Chandler
AZ
85226
Drop Off Repair and Sales
Fastenal
8957 W. Windsor Dr Suite 123
Peoria
AZ
85381
623-487-4284
Drop Off Repair and Sales
Fastenal
3048 N Cessna Ave Suite 1
Casa Grande
AZ
85122
520-423-1803
Drop Off Repair and Sales
Fastenal
9551 E. Lorna Lane, Suite N
Prescott Valley
AZ
86314
928-772-6325
Drop Off Repair and Sales
Fastenal
3455 S. Palo Verde Rd. # 143
Tucson
AZ
85713
520-670-1896
Drop Off Repair and Sales
Fastenal
2714 Ave. 3E
Yuma
AZ
85365
928-314-4930
Drop Off Repair and Sales
Fastenal
120 Tower Road, Suite 5
American Canyon
CA
94503
707-256-0767
Drop Off Repair and Sales
Fastenal
1550 S Sunkist St Unit D
Anaheim
CA
92806
Drop Off Repair and Sales
Fastenal
201 Business Parkway
Atwater
CA
95301
209-358-6114
Drop Off Repair and Sales
Fastenal
3740 Grass Valley Highway, Suite 2
Auburn
CA
95602
530-885-3771
Drop Off Repair and Sales
Fastenal
4425 East Brundage Lane
Bakersfield
CA
93307
661-635-3278
Drop Off Repair and Sales
Fastenal
4717-1 & 4725-1 District Blvd.
Bakersfield
CA
93313
661-398-3175
Drop Off Repair and Sales
Fastenal
3359 Pegasus Drive, Suite 201-203
Bakersfield
CA
93308
661-399-7455
Drop Off Repair and Sales
Fastenal
19424 Creek Road
Bakersfield
CA
93314
661-746-1003
Drop Off Repair and Sales
Fastenal
3452 Alken Street Suite A
Bakersfield
CA
93308
661-588-6670
Drop Off Repair and Sales
Fastenal
1143 W. Lincoln Avenue, Units 11&12
Banning
CA
92220
Drop Off Repair and Sales
Fastenal
2220 A Street Unit102
Santa Maria
CA
93455
805-925-7425
Drop Off Repair and Sales
Fastenal
5466 Gateway Plaza Drive
Benicia
CA
94510
707-745-2594
Drop Off Repair and Sales
Fastenal
1730 San Pablo Ave
Berkeley
CA
94702
510-527-9241
Drop Off Repair and Sales
Fastenal
1011 25th St
San Francisco
CA
94107
415-648-4314
Drop Off Repair and Sales
Fastenal
2401 Rockefeller Dr. Ste D
Ceres
CA
95307
209-541-0818
Drop Off Repair and Sales
Fastenal
9555 Owensmouth Ave, Unit 9
Chatsworth
CA
91311
Drop Off Repair and Sales
Fastenal
607 Country Drive
Chico
CA
95928
530-894-6390
Drop Off Repair and Sales
Fastenal
5171 Edison Avenue, Suite B
Chino
CA
91710
909-631-2887
Drop Off Repair and Sales
Fastenal
407 W. Robertson Blvd.
Chowchilla
CA
93610
559-665-1758
Drop Off Repair and Sales
Fastenal
1120 Bay Boulevard, Suite D
Chula Vista
CA
91911
619-424-6767
Drop Off Repair and Sales
Fastenal
136 California Avenue
City Of Industry
CA
91744
626-336-3220
Drop Off Repair and Sales
Fastenal
1375 Franquette Ave Ste A
Concord
CA
94520
925-363-4759
Drop Off Repair and Sales
Fastenal
595 N. Smith Ave Unit A
Corona
CA
92878
951-898-4768
Drop Off Repair and Sales
Fastenal
Santa Ana
CA
92707
Drop Off Repair and Sales
Fastenal
26470 Ruether Avenue, #110
Santa Clarita
CA
91350
661-299-9050
Drop Off Repair and Sales
Fastenal
400 Franklin
Oakland
CA
94607
Drop Off Repair and Sales
Fastenal
606 Pena Drive, Unit 900
Davis
CA
95618
530-750-1024
Drop Off Repair and Sales
Fastenal
1747 Glenwood Street
Delano
CA
93215
661-721-7676
Drop Off Repair and Sales
Fastenal
1660 N. Lincoln, Unit B
Dixon
CA
95620
707-678-6827
Drop Off Repair and Sales
Fastenal
501 B East Heil Ave.
El Centro
CA
92243
760-352-2313
Drop Off Repair and Sales
Fastenal
9291 Bendel Place STE 110
Elk Grove
CA
95624
916-687-3227
Drop Off Repair and Sales
Fastenal
435 W. Bradley Ave Suite B
El Cajon
CA
92020
619-442-8892
Drop Off Repair and Sales
Fastenal
4669 Golden Foothill Pkwy STE.102
El Dorado Hills
CA
95762
916-933-8042
Drop Off Repair and Sales
Fastenal
445 Ryan Drive Suite 106
San Marcos
CA
92078
760-891-0575
Drop Off Repair and Sales
Fastenal
333 Suite A Cedar St.
Eureka
CA
95501
707-445-9284
Drop Off Repair and Sales
Fastenal
15754 Slover Ave, Unit A
Fontana
CA
92337
909-822-3278
Drop Off Repair and Sales
Fastenal
2030 S Golden St Blvd Ste 201
Fowler
CA
93625
559-834-2243
Drop Off Repair and Sales
Fastenal
5816 East Shields Ave # 106
Fresno
CA
93727
559-291-9011
Drop Off Repair and Sales
Fastenal
3535 W. Gettysburg Ave.
Fresno
CA
93722
559-227-1112
Drop Off Repair and Sales
Fastenal
1837 Academy Avenue
Sanger
CA
93657
559-875-3731
Drop Off Repair and Sales
Fastenal
45333 Fremont Blvd, Unit 6
Fremont
CA
94538
510-226-6580
Drop Off Repair and Sales
Fastenal
3204 East Garrett
Fresno
CA
93706
559-495-0146
Drop Off Repair and Sales
Fastenal
7052 Orangewood Ave
Garden Grove
CA
92841
714-372-3023
Drop Off Repair and Sales
Fastenal
5985 Obata Way Unit B
Gilroy
CA
95020
408-846-6733
Drop Off Repair and Sales
Fastenal
13006 Saticoy St.#3
North Hollywood
CA
91605
818-503-0219
Drop Off Repair and Sales
Fastenal
5765 Thornwood Drive
Goleta
CA
93117
805-967-3631
Drop Off Repair and Sales
Fastenal
12285 Loma Rica Drive
Grass Valley
CA
95945
530-477-7543
Drop Off Repair and Sales
Fastenal
947 E Lacey Blvd
Hanford
CA
93232
559-584-7001
Drop Off Repair and Sales
Fastenal
3777 Depot Rd Suite 417
Hayward
CA
94545
510-784-0208
Drop Off Repair and Sales
Fastenal
1500 Lana Way Unit A
Hollister
CA
95023
831-630-9240
Drop Off Repair and Sales
Fastenal
320 N Eucalyptus Ave. Ste. A
Inglewood
CA
90302
310-419-4000
Drop Off Repair and Sales
Fastenal
12275 Martell Road, Suite 9
Jackson
CA
95642
209-257-1443
Drop Off Repair and Sales
Fastenal
10247 Bellegrave Avenue #108
Jurupa Valley
CA
91752
951-361-9004
Drop Off Repair and Sales
Fastenal
43145 Business Center Pkwy
Lancaster
CA
93535
661-945-4306
Drop Off Repair and Sales
Fastenal
925 South 19th Ave
Lemoore
CA
93245
559-925-0241
Drop Off Repair and Sales
Fastenal
5542 Brisa Street, Suite B
Livermore
CA
94550
925-456-3278
Drop Off Repair and Sales
Fastenal
14518 S. Garfield Avenue
Paramount
CA
90723
562-602-1026
Drop Off Repair and Sales
Fastenal
17101 S. Central Ave, Unit J
Carson
CA
90746
310-638-1626
Drop Off Repair and Sales
Fastenal
576 N Citrus Ave, Suite C
Covina
CA
91723
626-331-0667
Drop Off Repair and Sales
Fastenal
9905 Painter Avenue, Suites L&M
Whittier
CA
90605
562-944-6545
Drop Off Repair and Sales
Fastenal
30 G St Suite E
Los Banos
CA
93635
209-829-1399
Drop Off Repair and Sales
Fastenal
310 N. Cluff Ave Suite D
Lodi
CA
95240
209-368-3802
Drop Off Repair and Sales
Fastenal
401 North E Street
Lompoc
CA
93436
805-736-6380
Drop Off Repair and Sales
Fastenal
4420 Broad St. Bldg. A
San Luis Obispo
CA
93401
805-786-4505
Drop Off Repair and Sales
Fastenal
1955 Independence Dr. Ste 107
Madera
CA
93637
559-675-5152
Drop Off Repair and Sales
Fastenal
17981 Ideal Pkwy Unit D
Manteca
CA
95336
209-824-4488
Drop Off Repair and Sales
Fastenal
116 Heron Way, Suite #A
Merced
CA
95341
209-383-0566
Drop Off Repair and Sales
Fastenal
15801 Rockfield Blvd Suite L & M
Irvine
CA
92618
949-583-9672
Drop Off Repair and Sales
Fastenal
1295 N. Emerald Ave.
Modesto
CA
95351
209-524-6749
Drop Off Repair and Sales
Fastenal
355 Woodview Avenue, Suite 400
Morgan Hill
CA
95037
408-779-7045
Drop Off Repair and Sales
Fastenal
509 Armstrong Way, Suite E
Oakdale
CA
95361
209-848-0962
Drop Off Repair and Sales
Fastenal
6603 San Leandro St.
Oakland
CA
94621
510-639-0890
Drop Off Repair and Sales
Fastenal
1351 S. Grove Avenue Ste 103 & 104
Ontario
CA
91761
Drop Off Repair and Sales
Fastenal
2850 Feather River Blvd
Oroville
CA
95965
530-534-1648
Drop Off Repair and Sales
Fastenal
2380 Eastman Ave. Suite 114
Oxnard
CA
93030
805-278-9852
Drop Off Repair and Sales
Fastenal
1931 Old Middlefield Way Suite 209
Mountain View
CA
94043
650-210-9349
Drop Off Repair and Sales
Fastenal
78-078 Country Club Drive
Bermuda Dunes
CA
92203
760-200-1725
Drop Off Repair and Sales
Fastenal
1140 Ramada Drive Ste B
Paso Robles
CA
93446
805-226-9559
Drop Off Repair and Sales
Fastenal
501 South Second Street
Patterson
CA
95363
209-892-9466
Drop Off Repair and Sales
Fastenal
1340 Commerce St. Ste A B C
Petaluma
CA
94954
707-763-3745
Drop Off Repair and Sales
Fastenal
2201 10th St. Suite F
Antioch
CA
94509
925-778-9814
Drop Off Repair and Sales
Fastenal
6355 Scarlett Court, Unit 16
Dublin
CA
94568
925-828-7291
Drop Off Repair and Sales
Fastenal
917 W. North Grand Ave
Porterville
CA
93257
559-781-2964
Drop Off Repair and Sales
Fastenal
8747 Vineyard Avenue, Suite 150
Rancho Cucamonga
CA
91730
909-481-5977
Drop Off Repair and Sales
Fastenal
3251 Luyung Dr.
Rancho Cordova
CA
95742
916-635-7821
Drop Off Repair and Sales
Fastenal
4950 Mountain Lakes Blvd. Suite A
Redding
CA
96003
530-246-2507
Drop Off Repair and Sales
Fastenal
1011 A Vista Way
Red Bluff
CA
96080
530-527-9316
Drop Off Repair and Sales
Fastenal
1755 8th St.
Reedley
CA
93654
559-638-2001
Drop Off Repair and Sales
Fastenal
21801 Cactus Avenue, Suites E & F
Riverside
CA
92518
951-656-1051
Drop Off Repair and Sales
Fastenal
1285 N. Fitzgerald Ave A&B
Rialto
CA
92376
909-820-3021
Drop Off Repair and Sales
Fastenal
3383 Durahart Street
Riverside
CA
92507
951-781-7074
Drop Off Repair and Sales
Fastenal
4011 Alvis Court , Unit #2
Rocklin
CA
95677
Drop Off Repair and Sales
Fastenal
3715 Santa Rosa Ave Unit A-1
Santa Rosa
CA
95407
707-206-9212
Drop Off Repair and Sales
Fastenal
10560 Industrial Avenue #100
Roseville
CA
95678
916-784-7770
Drop Off Repair and Sales
Fastenal
1011 25th Street
San Francisco
CA
94107
Drop Off Repair and Sales
Fastenal
1240 Pacific Street
Union City
CA
94587
510-324-1243
Drop Off Repair and Sales
Fastenal
211 Lathrop Way Suites I and J
Sacramento
CA
95815
916-922-8756
Drop Off Repair and Sales
Fastenal
2045 Preisker Lane, Units D E & F
Santa Maria
CA
93454
Drop Off Repair and Sales
Fastenal
820 Piner Road
Santa Rosa
CA
95403
707-528-3540
Drop Off Repair and Sales
Fastenal
730 Las Juntas Street
Martinez
CA
94553
925-370-2742
Drop Off Repair and Sales
Fastenal
1438 Rollins Road
Burlingame
CA
94010
650-548-4009
Drop Off Repair and Sales
Fastenal
1200 Harbour Way South Suite 102
Richmond
CA
94804
510-235-8104
Drop Off Repair and Sales
Fastenal
5430 Florin Perkins Road Suite 200
Sacramento
CA
95826
916-383-1671
Drop Off Repair and Sales
Fastenal
510 Parrott St. Unit 3
San Jose
CA
95112
408-283-9550
Drop Off Repair and Sales
Fastenal
4651 Mission Gorge Place, Suite A
San Diego
CA
92120
619-276-0957
Drop Off Repair and Sales
Fastenal
1435 North Market Blvd. Suite 1
Sacramento
CA
95834
916-928-6990
Drop Off Repair and Sales
Fastenal
3280 Edward Ave Ste E
Santa Clara
CA
95054
408-970-3411
Drop Off Repair and Sales
Fastenal
3466 Brickway Blvd
Santa Rosa
CA
95403
707-542-8624
Drop Off Repair and Sales
Fastenal
1645 Old County Road
San Carlos
CA
94070
650-610-0301
Drop Off Repair and Sales
Fastenal
328 E. Commercial Road Unit 112
San Bernardino
CA
92408
909-796-8901
Drop Off Repair and Sales
Fastenal
20 N. East Street, Ste. 102
Woodland
CA
95776
530-668-4652
Drop Off Repair and Sales
Fastenal
9030 Carroll Way Suite 9
San Diego
CA
92121
858-549-1530
Drop Off Repair and Sales
Fastenal
1510 Old Oakland Road, Ste 100
San Jose
CA
95112
408-452-8108
Drop Off Repair and Sales
Fastenal
1367 Dayton St. Unit A
Salinas
CA
93901
831-769-9156
Drop Off Repair and Sales
Fastenal
1128 Western St Unit # 5 & 7
Fairfield
CA
94533
707-421-2972
Drop Off Repair and Sales
Fastenal
2980 Kerner Blvd
San Rafael
CA
94901
Drop Off Repair and Sales
Fastenal
124 River Street
Santa Cruz
CA
95060
Drop Off Repair and Sales
Fastenal
1526 Del Monte Blvd.
Seaside
CA
93955
Drop Off Repair and Sales
Fastenal
703 West Anaheim St.
Long Beach
CA
90813
Drop Off Repair and Sales
Fastenal
725 Cochran St. Unit B
Simi Valley
CA
93065
805-522-0935
Drop Off Repair and Sales
Fastenal
920 Front Street
Soledad
CA
93960
831-678-0984
Drop Off Repair and Sales
Fastenal
14599 Tuolumne Rd. Unit B.
Sonora
CA
95370
209-588-0517
Drop Off Repair and Sales
Fastenal
1048 West Fremont St. Ste A
Stockton
CA
95203
Drop Off Repair and Sales
Fastenal
3663 Arch Rd. Suite 200
Stockton
CA
95215
209-546-7511
Drop Off Repair and Sales
Fastenal
4063 Calloway Court
Stockton
CA
95215
209-931-7853
Drop Off Repair and Sales
Fastenal
1445 Kern Street
Taft
CA
93268
661-765-2680
Drop Off Repair and Sales
Fastenal
1170 East Tehachapi Blvd. Suite B
Tehachapi
CA
93561
661-822-1688
Drop Off Repair and Sales
Fastenal
26540 Jefferson Ave. Suite C
Murrieta
CA
92562
951-461-8301
Drop Off Repair and Sales
Fastenal
222 W Larch Road, STE #A
Tracy
CA
95304
209-832-8534
Drop Off Repair and Sales
Fastenal
1472 S. Blackstone
Tulare
CA
93274
559-685-8441
Drop Off Repair and Sales
Fastenal
2350 North Walnut Road
Turlock
CA
95382
209-669-6910
Drop Off Repair and Sales
Fastenal
860 South State Street Suite A
Ukiah
CA
95482
707-462-1283
Drop Off Repair and Sales
Fastenal
37420 Cedar Blvd. Ste E
Newark
CA
94560
Drop Off Repair and Sales
Fastenal
1031 Aldridge Road, Unit F
Vacaville
CA
95688
707-446-2837
Drop Off Repair and Sales
Fastenal
25133 Ave Tibbitts Unit A
Valencia
CA
91355
661-294-7945
Drop Off Repair and Sales
Fastenal
903 E Douglas Ave Suite A
Visalia
CA
93292
559-739-2620
Drop Off Repair and Sales
Fastenal
18499 Phantom West, Ste 6
Victorville
CA
92394
760-530-0658
Drop Off Repair and Sales
Fastenal
9600 W. Grove Ave
Visalia
CA
93291
559-651-0696
Drop Off Repair and Sales
Fastenal
1334 N. Melrose Dr. Suite A & B
Vista
CA
92083
760-631-7944
Drop Off Repair and Sales
Fastenal
542 Walker St.
Watsonville
CA
95076
831-724-6527
Drop Off Repair and Sales
Fastenal
501 Harbor Blvd Unit A
West Sacramento
CA
95691
916-371-8015
Drop Off Repair and Sales
Fastenal
534 West 7th Street
Williams
CA
95987
530-473-2220
Drop Off Repair and Sales
Fastenal
1256 Garden Highway Ste A
Yuba City
CA
95991
530-671-1335
Drop Off Repair and Sales
Fastenal
344 Santa Fe Ave.
Alamosa
CO
81101
719-589-2467
Drop Off Repair and Sales
Fastenal
303 Sawyer Dr
Durango
CO
81303
970-385-1033
Drop Off Repair and Sales
Fastenal
1218 Commerce Ct Unit A
Lafayette
CO
80026
303-666-1049
Drop Off Repair and Sales
Fastenal
10855 Dover Street
Westminster
CO
80021
303-469-0687
Drop Off Repair and Sales
Fastenal
707 S 8th Street
Canon City
CO
81212
719-275-9027
Drop Off Repair and Sales
Fastenal
4127 Sinton Road
Colorado Springs
CO
80907
719-577-9524
Drop Off Repair and Sales
Fastenal
5180 Smith Road, Unit C&D
Denver
CO
80216
303-399-3527
Drop Off Repair and Sales
Fastenal
12061 Pennsylvania Street
Thornton
CO
80241
303-452-3592
Drop Off Repair and Sales
Fastenal
7065 S Fulton St. Ste 150
Centennial
CO
80112
303-799-6509
Drop Off Repair and Sales
Fastenal
Brighton
CO
80601
Drop Off Repair and Sales
Fastenal
5641 Washington St
Denver
CO
80216
303-853-0069
Drop Off Repair and Sales
Fastenal
3809 Norwood dr Unit 6 & 7
Littleton
CO
80125
303-470-9412
Drop Off Repair and Sales
Fastenal
3225 Prairie Ave
Boulder
CO
80301
Drop Off Repair and Sales
Fastenal
2300 W. 2nd Ave Unit B
Denver
CO
80223
303-825-3904
Drop Off Repair and Sales
Fastenal
12330 East 46th Ave., Suite 800
Denver
CO
80239
303-574-3368
Drop Off Repair and Sales
Fastenal
19873 US Highway 34
Fort Morgan
CO
80701
970-867-4475
Drop Off Repair and Sales
Fastenal
2601 Riverbend Court
Fort Collins
CO
80525
970-482-2257
Drop Off Repair and Sales
Fastenal
510 Denver Ave
Fort Lupton
CO
80621
303-857-9500
Drop Off Repair and Sales
Fastenal
701 Pine Ridge Rd., Unit 1
Golden
CO
80403
303-278-7380
Drop Off Repair and Sales
Fastenal
2765 Riverside Parkway Unit A
Grand Junction
CO
81501
970-243-5754
Drop Off Repair and Sales
Fastenal
1104 42nd St.
Evans
CO
80620
970-353-7253
Drop Off Repair and Sales
Fastenal
30636 E. Hwy 50
La Junta
CO
81050
719-383-2105
Drop Off Repair and Sales
Fastenal
1461 Skyway Drive
Longmont
CO
80504
303-776-6519
Drop Off Repair and Sales
Fastenal
104 East 15th Street
Loveland
CO
80538
970-669-9595
Drop Off Repair and Sales
Fastenal
2430 N. Townsend Ave
Montrose
CO
81401
970-240-9623
Drop Off Repair and Sales
Fastenal
1275 Gary Ave
Pueblo
CO
81001
719-542-1146
Drop Off Repair and Sales
Fastenal
3000 Granada
Pueblo
CO
81005
Drop Off Repair and Sales
Fastenal
695 Buckhorn Dr.
Rifle
CO
81650
970-625-1071
Drop Off Repair and Sales
Fastenal
Silverthorne
CO
80498
Drop Off Repair and Sales
Fastenal
1111 W. Victory Way Unit#121
Craig
CO
81625
970-824-3138
Drop Off Repair and Sales
Fastenal
18596 County Road 24
Sterling
CO
80751
970-526-2085
Drop Off Repair and Sales
Fastenal
15 East 8th Ave
Yuma
CO
80759
Drop Off Repair and Sales
Fastenal
81-A Old Windsor Road
Bloomfield
CT
6002
860-243-9696
Drop Off Repair and Sales
Fastenal
25 Business Park Dr. Suite A
Branford
CT
6405
203-483-0783
Drop Off Repair and Sales
Fastenal
44 Dell Manor Dr
Bristol
CT
6010
860-584-0455
Drop Off Repair and Sales
Fastenal
13-15 Old Sherman TPKE
Danbury
CT
6810
203-792-2898
Drop Off Repair and Sales
Fastenal
230 Murphy Rd
Hartford
CT
6114
860-246-7424
Drop Off Repair and Sales
Fastenal
199 Shunpike Rd
Cromwell
CT
6416
860-632-1133
Drop Off Repair and Sales
Fastenal
356 Sackett Point Road
North Haven
CT
6473
203-248-2175
Drop Off Repair and Sales
Fastenal
2231 Berlin Turnpike
Newington
CT
6111
Drop Off Repair and Sales
Fastenal
264 Route 32
North Franklin
CT
6254
860-642-1995
Drop Off Repair and Sales
Fastenal
164 Providence Pike
Putnam
CT
6260
Drop Off Repair and Sales
Fastenal
555 Lordship Blvd
Stratford
CT
6615
Drop Off Repair and Sales
Fastenal
330 Fairfield Avenue
Stamford
CT
6902
203-359-4186
Drop Off Repair and Sales
Fastenal
1344 Meriden Road
Waterbury
CT
6705
203-596-8220
Drop Off Repair and Sales
Fastenal
210-A Robert Street
Hartford
CT
6128
Drop Off Repair and Sales
Fastenal
1070A S. Little Creek Rd.
Dover
DE
19901
302-741-2445
Drop Off Repair and Sales
Fastenal
205 Mullet Run Street
Milford
DE
19963
302-422-9629
Drop Off Repair and Sales
Fastenal
92 Quigley Blvd.
New Castle
DE
19720
Drop Off Repair and Sales
Fastenal
625 Dawson Drive
Newark
DE
19713
Drop Off Repair and Sales
Fastenal
15 Germay Drive
Wilmington
DE
19804
302-654-1986
Drop Off Repair and Sales
Fastenal
9308 Sussex Corporate Center Dr
Seaford
DE
19973
302-628-8393
Drop Off Repair and Sales
Fastenal
910 Magnolia Avenue
Auburndale
FL
33823
863-967-1583
Drop Off Repair and Sales
Fastenal
7785 SE 59th Ct
Ocala
FL
34472
Drop Off Repair and Sales
Fastenal
6540 East Rogers Circle
Boca Raton
FL
33487
Drop Off Repair and Sales
Fastenal
2010 51st Av. East. Unit #100
Palmetto
FL
34221
941-776-7367
Drop Off Repair and Sales
Fastenal
16252 Springhill Drive
Brooksville
FL
34604
352-797-6163
Drop Off Repair and Sales
Fastenal
2111 Sunnydale Blvd unit A
Clearwater
FL
33765
Drop Off Repair and Sales
Fastenal
10900 47th Street
Clearwater
FL
33762
727-561-7491
Drop Off Repair and Sales
Fastenal
917 Three Sisters Spring Trail
Crystal River
FL
34429
352-795-8975
Drop Off Repair and Sales
Fastenal
2450 E. International Speedway Blvd
Deland
FL
32724
386-734-5664
Drop Off Repair and Sales
Fastenal
707 W Park Avenue
Edgewater
FL
32132
386-423-0613
Drop Off Repair and Sales
Fastenal
7909 Congress St.
Port Richey
FL
34668
Drop Off Repair and Sales
Fastenal
96076 Chester Road
Yulee
FL
32097
904-225-4824
Drop Off Repair and Sales
Fastenal
215 SW 28th Street
Ft Lauderdale
FL
33315
954-522-1213
Drop Off Repair and Sales
Fastenal
4350 Oakes Rd. Suites 508 & 509
Davie
FL
33314
954-792-2080
Drop Off Repair and Sales
Fastenal
16850 Oriole Road, Unit #5
Fort Myers
FL
33912
239-215-0506
Drop Off Repair and Sales
Fastenal
750 NW Enterprise Drive
Port Saint Lucie
FL
34986
772-878-9248
Drop Off Repair and Sales
Fastenal
295 Lewis Street
Fort Walton Beach
FL
32547
850-302-0285
Drop Off Repair and Sales
Fastenal
203 SW 16th Avenue
Gainesville
FL
32601
Drop Off Repair and Sales
Fastenal
1315 NW 53rd Avenue Suite H
Gainesville
FL
32609
352-271-4220
Drop Off Repair and Sales
Fastenal
502 N Orange Ave
Green Cove Springs
FL
32043
904-529-9311
Drop Off Repair and Sales
Fastenal
7101 Presidents Dr. Suite 300
Orlando
FL
32809
407-852-2962
Drop Off Repair and Sales
Fastenal
335 S. Krome Avenue
Florida City
FL
33034
786-243-9188
Drop Off Repair and Sales
Fastenal
4250 Highway Avenue Unit 2
Jacksonville
FL
32254
Drop Off Repair and Sales
Fastenal
14600 Duval Place West, Suite 31
Jacksonville
FL
32218
Drop Off Repair and Sales
Fastenal
1408 Haines St.
Jacksonville
FL
32206
904-353-7563
Drop Off Repair and Sales
Fastenal
201 Picketteville Rd
Jacksonville
FL
32220
904-378-2547
Drop Off Repair and Sales
Fastenal
9556 Historic Kings Rd South #104
Jacksonville
FL
32257
904-268-2278
Drop Off Repair and Sales
Fastenal
1562 Park Lane South
Jupiter
FL
33458
561-575-2472
Drop Off Repair and Sales
Fastenal
2520 Michigan Ave. Ste. E
Kissimmee
FL
34744
407-932-2421
Drop Off Repair and Sales
Fastenal
117 SE Nassau St
Lake City
FL
32025
386-758-9423
Drop Off Repair and Sales
Fastenal
3711 Century Blvd. Unit #1
Lakeland
FL
33811
863-644-4092
Drop Off Repair and Sales
Fastenal
3411 W. Main St. Ste # 3&4
Leesburg
FL
34748
352-326-3945
Drop Off Repair and Sales
Fastenal
830 S. Ronald Reagan Blvd Ste 212
Longwood
FL
32750
407-260-9022
Drop Off Repair and Sales
Fastenal
531 107th Street Gulf Units 1,2,3
Marathon
FL
33050
Drop Off Repair and Sales
Fastenal
2499 Commercial Park Drive
Marianna
FL
32448
Drop Off Repair and Sales
Fastenal
4550 N.W. 72nd Avenue
Miami
FL
33166
Drop Off Repair and Sales
Fastenal
3977 NW 25th Street
Miami
FL
33142
786-265-7804
Drop Off Repair and Sales
Fastenal
150 NW 176th St. Bay F
Miami Gardens
FL
33169
Drop Off Repair and Sales
Fastenal
8200 NW 93rd Street, Suite 3
Medley
FL
33166
305-888-3704
Drop Off Repair and Sales
Fastenal
4821 A Glover Lane
Milton
FL
32570
850-981-9555
Drop Off Repair and Sales
Fastenal
3830 Executive Way
Miramar
FL
33025
954-450-4620
Drop Off Repair and Sales
Fastenal
150 Kid Ellis Road
Mulberry
FL
33860
863-425-3286
Drop Off Repair and Sales
Fastenal
12702 Trade Way Dr, Unit 2
Bonita Springs
FL
34135
Drop Off Repair and Sales
Fastenal
420 SW 33rd Ave
Ocala
FL
34474
352-622-5335
Drop Off Repair and Sales
Fastenal
379 Douglas Rd Unit A
Oldsmar
FL
34677
Drop Off Repair and Sales
Fastenal
1833 SouthOrangeBlossomTrail
Apopka
FL
32703
407-889-0200
Drop Off Repair and Sales
Fastenal
6148 Hanging Moss Ste 150
Orlando
FL
32807
407-677-6689
Drop Off Repair and Sales
Fastenal
890 Carter Rd Ste 150 & 160
Winter Garden
FL
34787
Drop Off Repair and Sales
Fastenal
7101 Presidents Drive
Orlando
FL
32809
Drop Off Repair and Sales
Fastenal
2405 W. Princeton Street, #11
Orlando
FL
32804
Drop Off Repair and Sales
Fastenal
1230 N US Hwy 1 Ste 12
Ormond Beach
FL
32174
386-615-7818
Drop Off Repair and Sales
Fastenal
2907 Reid Street
Palatka
FL
32177
Drop Off Repair and Sales
Fastenal
1209 Harrison Ave.
Panama City
FL
32401
850-747-0089
Drop Off Repair and Sales
Fastenal
33 East Brent Lane
Pensacola
FL
32503
850-470-0851
Drop Off Repair and Sales
Fastenal
2716 S. Bryon Butler Pkwy
Perry
FL
32348
850-584-2663
Drop Off Repair and Sales
Fastenal
1282 Market Circle Unit B2
Port Charlotte
FL
33953
941-629-3278
Drop Off Repair and Sales
Fastenal
2201 North Andrews Ave., Suite #102
Pompano Beach
FL
33069
954-979-3629
Drop Off Repair and Sales
Fastenal
1155 Cattleman Road Unit C
Sarasota
FL
34232
941-378-1084
Drop Off Repair and Sales
Fastenal
655 Progress Way
Sanford
FL
32771
Drop Off Repair and Sales
Fastenal
4453 US Hwy 27 S
Sebring
FL
33870
Drop Off Repair and Sales
Fastenal
3055 46th Avenue North
St Petersburg
FL
33714
727-521-3278
Drop Off Repair and Sales
Fastenal
4362 SE Commerce Ave
Stuart
FL
34997
Drop Off Repair and Sales
Fastenal
5402 Pioneer Park
Tampa
FL
33634
813-890-8920
Drop Off Repair and Sales
Fastenal
2603 Causeway Center Dr.
Tampa
FL
33619
813-740-0719
Drop Off Repair and Sales
Fastenal
572 A Appleyard Drive
Tallahassee
FL
32304
850-575-3176
Drop Off Repair and Sales
Fastenal
5320 56th Commerce Park Blvd.
Tampa
FL
33610
813-626-5650
Drop Off Repair and Sales
Fastenal
228 & 242 Silverado St
Tavares
FL
32778
Drop Off Repair and Sales
Fastenal
369 Cheney Hwy
Titusville
FL
32780
321-267-2424
Drop Off Repair and Sales
Fastenal
7656 Byron Dr.
Riviera Beach
FL
33404
561-840-8422
Drop Off Repair and Sales
Fastenal
4200 Dow Road, Suite B
Melbourne
FL
32934
321-255-5350
Drop Off Repair and Sales
Fastenal
8120 Belvedere Rd, Unit #1
West Palm Beach
FL
33411
561-422-2818
Drop Off Repair and Sales
Fastenal
2725 Mountain Industrial Blvd
Tucker
GA
30084
Drop Off Repair and Sales
Fastenal
2435 Sylvester Hwy.
Albany
GA
31705
229-439-1027
Drop Off Repair and Sales
Fastenal
820 S Martin Luther King Blvd UnitA
Americus
GA
31719
229-931-9410
Drop Off Repair and Sales
Fastenal
2255 McCollum Parkway Suite 400
Kennesaw
GA
30144
770-499-0931
Drop Off Repair and Sales
Fastenal
1640 Autumn Blvd.
Conyers
GA
30012
770-860-0556
Drop Off Repair and Sales
Fastenal
6290 JimmyCarter Blvd Ste201
Norcross
GA
30071
770-448-5771
Drop Off Repair and Sales
Fastenal
604 A & 604 B Cordell Drive
College Park
GA
30349
404-766-8746
Drop Off Repair and Sales
Fastenal
2961 Olympic Industrial Dr SE
Atlanta
GA
30339
404-351-7881
Drop Off Repair and Sales
Fastenal
233 Arnold Mill Rd. Ste100
Woodstock
GA
30188
770-516-5725
Drop Off Repair and Sales
Fastenal
104 Three West Parkway Ste 100
Villa Rica
GA
30180
678-840-4373
Drop Off Repair and Sales
Fastenal
6445 Fulton Industrial Blvd
Atlanta
GA
30336
404-346-1302
Drop Off Repair and Sales
Fastenal
1467 Reynolds St.
Augusta
GA
30901
706-722-3598
Drop Off Repair and Sales
Fastenal
Granite City
IL
62040
Drop Off Repair and Sales
Fastenal
530 East Calhoun St
Bainbridge
GA
39817
229-246-8155
Drop Off Repair and Sales
Fastenal
463 Bay Street
Baxley
GA
31513
912-367-9396
Drop Off Repair and Sales
Fastenal
590 Olympic Dr.
Athens
GA
30601
706-613-1912
Drop Off Repair and Sales
Fastenal
4759 New Jesup Highway
Brunswick
GA
31520
912-261-0919
Drop Off Repair and Sales
Fastenal
4997 Bristol Industrial Way
Buford
GA
30518
678-482-2038
Drop Off Repair and Sales
Fastenal
1762 Highway 27 North UnitA
Carrollton
GA
30117
770-830-0231
Drop Off Repair and Sales
Fastenal
1489 Hwy 411 NE
Cartersville
GA
30121
770-607-7321
Drop Off Repair and Sales
Fastenal
168 Wilford Ash Sr. Parkway
Cleveland
GA
30528
706-865-0279
Drop Off Repair and Sales
Fastenal
4617 Milgen Rd Unit 1
Columbus
GA
31907
Drop Off Repair and Sales
Fastenal
1522 Veterans Parkway
Columbus
GA
31901
706-653-1233
Drop Off Repair and Sales
Fastenal
40095 Hwy 441 South
Commerce
GA
30529
706-423-0059
Drop Off Repair and Sales
Fastenal
601 A 16th Ave E.
Cordele
GA
31015
229-271-5804
Drop Off Repair and Sales
Fastenal
10244 Industrial Blvd
Covington
GA
30014
770-784-3811
Drop Off Repair and Sales
Fastenal
1110 Ridgeland Parkway Suite106
Alpharetta
GA
30004
678-624-9950
Drop Off Repair and Sales
Fastenal
416 Butler Industrial Drive
Dallas
GA
30132
770-443-9493
Drop Off Repair and Sales
Fastenal
3028 N. Dug Gap Rd. SW
Dalton
GA
30720
706-278-7737
Drop Off Repair and Sales
Fastenal
6140 Highway 400, Suite D
Cumming
GA
30028
770-888-4264
Drop Off Repair and Sales
Fastenal
5365 Dividend Dr Ste G
Decatur
GA
30035
Drop Off Repair and Sales
Fastenal
1190 Bowens Mill Rd SW
Douglas
GA
31533
912-383-9572
Drop Off Repair and Sales
Fastenal
708 Industrial Blvd
Dublin
GA
31021
478-272-0029
Drop Off Repair and Sales
Fastenal
1001 Milledgeville Rd. Suite H
Eatonton
GA
31024
706-485-6048
Drop Off Repair and Sales
Fastenal
308 Fairburn Industrial Blvd.
Fairburn
GA
30213
770-969-0283
Drop Off Repair and Sales
Fastenal
120 Colony Drive
Fitzgerald
GA
31750
229-423-2600
Drop Off Repair and Sales
Fastenal
2130 D Hilton Drive
Gainesville
GA
30501
770-534-3220
Drop Off Repair and Sales
Fastenal
28 Coleman Blvd.
Pooler
GA
31322
912-748-1343
Drop Off Repair and Sales
Fastenal
1516 Kalamazoo Drive Suite B-5
Griffin
GA
30224
770-229-1094
Drop Off Repair and Sales
Fastenal
229 W.GeneralScrevenWay M3
Hinesville
GA
31313
912-369-8152
Drop Off Repair and Sales
Fastenal
2046 South Davis Road
Lagrange
GA
30241
706-882-3501
Drop Off Repair and Sales
Fastenal
305 Shawnee North Dr. Ste200
Suwanee
GA
30024
770-904-5865
Drop Off Repair and Sales
Fastenal
1396 Rocky Creek Road
Macon
GA
31206
478-781-0202
Drop Off Repair and Sales
Fastenal
1715 Meredith Park Drive
McDonough
GA
30253
770-305-9990
Drop Off Repair and Sales
Fastenal
1624 1st Ave SE
Moultrie
GA
31768
229-985-3577
Drop Off Repair and Sales
Fastenal
375 International Park, Suite 350
Newnan
GA
30265
770-252-2812
Drop Off Repair and Sales
Fastenal
309 Dodd Blvd Suite 200
Rome
GA
30161
706-802-0270
Drop Off Repair and Sales
Fastenal
2305 Louisville Rd, Suite8
Savannah
GA
31415
912-231-8263
Drop Off Repair and Sales
Fastenal
830 S. Main St.
Statesboro
GA
30458
912-681-4445
Drop Off Repair and Sales
Fastenal
1017 West Jackson Street
Thomasville
GA
31792
229-225-1339
Drop Off Repair and Sales
Fastenal
492 Main Street
Thomson
GA
30824
706-597-0484
Drop Off Repair and Sales
Fastenal
2004 East Hill Ave.
Valdosta
GA
31601
229-257-0837
Drop Off Repair and Sales
Fastenal
2707 E. 1st St.
Vidalia
GA
30474
912-538-8234
Drop Off Repair and Sales
Fastenal
2985-B Knight Ave
Waycross
GA
31501
Drop Off Repair and Sales
Fastenal
6110 Watson Blvd.
Byron
GA
31008
Drop Off Repair and Sales
Fastenal
1290 Greensboro HWY Suite A
Watkinsville
GA
30677
Drop Off Repair and Sales
Fastenal
925 S. Main St.
Tifton
GA
31794
229-387-8886
Drop Off Repair and Sales
Fastenal
10 Business Center Drive
Winder
GA
30680
770-867-1169
Drop Off Repair and Sales
Fastenal
215 Rojas Street, Unit 125
Tamuning
GU
96913
671-648-1406
Drop Off Repair and Sales
Fastenal
15 Kukila Street, unit #1
Hilo
HI
96720
808-961-3591
Drop Off Repair and Sales
Fastenal
720 Moowaa St Ste A
Honolulu
HI
96817
808-851-7083
Drop Off Repair and Sales
Fastenal
2108 Lauwiliwili St. Unit 101C
Kapolei
HI
96707
Drop Off Repair and Sales
Fastenal
73-5569 Maiau St. #105 & #106
Kailua Kona
HI
96740
808-329-7092
Drop Off Repair and Sales
Fastenal
723 Umi Street
Honolulu
HI
96819
808-851-7083
Drop Off Repair and Sales
Fastenal
800 Eha Street Unit #22
Wailuku
HI
96793
808-243-3278
Drop Off Repair and Sales
Fastenal
1235 Thomas Beck Road, Suite E
Des Moines
IA
50315
515-630-6473
Drop Off Repair and Sales
Fastenal
2228 S.E. 5th Street
Ames
IA
50010
515-232-4768
Drop Off Repair and Sales
Fastenal
406 E. 3rd Street
Atlantic
IA
50022
712-243-7746
Drop Off Repair and Sales
Fastenal
5111 Tremont Avenue Suite A
Davenport
IA
52807
563-344-0870
Drop Off Repair and Sales
Fastenal
1301 Broadway Street
West Burlington
IA
52655
319-752-4109
Drop Off Repair and Sales
Fastenal
425 US Highway 30 West Suite 350
Carroll
IA
51401
712-792-0515
Drop Off Repair and Sales
Fastenal
825 33rd Ave. SW
Cedar Rapids
IA
52404
319-363-3942
Drop Off Repair and Sales
Fastenal
2016 Lincoln Way
Clinton
IA
52732
563-242-3595
Drop Off Repair and Sales
Fastenal
2130 23rd Avenue
Council Bluffs
IA
51501
712-325-9006
Drop Off Repair and Sales
Fastenal
805 South Abell
Creston
IA
50801
641-782-2654
Drop Off Repair and Sales
Fastenal
1797 State Hwy 9 East
Decorah
IA
52101
563-382-6162
Drop Off Repair and Sales
Fastenal
6371 Northeast 14th Street
Des Moines
IA
50313
515-262-0230
Drop Off Repair and Sales
Fastenal
1074 Cedar Cross Road
Dubuque
IA
52003
563-556-7725
Drop Off Repair and Sales
Fastenal
3014 5th Ave. South
Fort Dodge
IA
50501
515-576-2677
Drop Off Repair and Sales
Fastenal
10892 Douglas Ave.
Urbandale
IA
50322
515-987-3514
Drop Off Repair and Sales
Fastenal
105 West Street South Ste E
Grinnell
IA
50112
641-236-1499
Drop Off Repair and Sales
Fastenal
1006 13th Street North
Humboldt
IA
50548
Drop Off Repair and Sales
Fastenal
907 South Fifth St
Manchester
IA
52057
563-927-2736
Drop Off Repair and Sales
Fastenal
348 South Oak Street
Iowa Falls
IA
50126
Drop Off Repair and Sales
Fastenal
507 Highland Avenue
Iowa City
IA
52240
319-338-7299
Drop Off Repair and Sales
Fastenal
3533 Main Street Suite 2
Keokuk
IA
52632
319-524-2815
Drop Off Repair and Sales
Fastenal
1309 Industrial Blvd Suite B
Marshalltown
IA
50158
641-752-9674
Drop Off Repair and Sales
Fastenal
904 S. Federal Ave.
Mason City
IA
50401
641-423-3337
Drop Off Repair and Sales
Fastenal
1105 W. Washington St.
Mt Pleasant
IA
52641
319-986-6626
Drop Off Repair and Sales
Fastenal
2007 Grandview Ave.
Muscatine
IA
52761
563-262-9287
Drop Off Repair and Sales
Fastenal
1 Gateway Drive
Ottumwa
IA
52501
641-682-0063
Drop Off Repair and Sales
Fastenal
E. 805 Oskaloosa Street
Pella
IA
50219
641-628-4200
Drop Off Repair and Sales
Fastenal
1513 1/2 N. Broadway St.
Red Oak
IA
51566
712-623-5084
Drop Off Repair and Sales
Fastenal
652 13th Ave NW
Sioux Center
IA
51250
712-722-4146
Drop Off Repair and Sales
Fastenal
1901 Leech Ave
Sioux City
IA
51106
712-252-0800
Drop Off Repair and Sales
Fastenal
1001 2nd Ave SE
Spencer
IA
51301
712-262-4111
Drop Off Repair and Sales
Fastenal
701 Seneca Suite #3
Storm Lake
IA
50588
712-732-1526
Drop Off Repair and Sales
Fastenal
7122 Nordic Drive
Cedar Falls
IA
50613
319-268-7200
Drop Off Repair and Sales
Fastenal
700 Technology Pl.
Waverly
IA
50677
319-352-4312
Drop Off Repair and Sales
Fastenal
625 Jensen Grove Dr.
Blackfoot
ID
83221
208-684-5021
Drop Off Repair and Sales
Fastenal
2506 Orchard
Boise
ID
83705
208-363-7155
Drop Off Repair and Sales
Fastenal
536 Overland
Burley
ID
83318
208-677-4605
Drop Off Repair and Sales
Fastenal
520 N Broadmore Way
Nampa
ID
83687
Drop Off Repair and Sales
Fastenal
12161 N Warren St.
Hayden
ID
83835
208-719-0016
Drop Off Repair and Sales
Fastenal
3760 S. Yellowstone Hwy
Idaho Falls
ID
83402
208-542-6008
Drop Off Repair and Sales
Fastenal
374 American Ave.
Jerome
ID
83338
208-324-0140
Drop Off Repair and Sales
Fastenal
3808 N Sullivan Rd Bld 100 Ste A
Spokane Valley
WA
99216
509-891-1989
Drop Off Repair and Sales
Fastenal
1815 American Legion Blvd. Suite C
Mountain Home
ID
83647
208-580-0017
Drop Off Repair and Sales
Fastenal
2500 Garrett Way
Pocatello
ID
83201
208-478-6810
Drop Off Repair and Sales
Fastenal
10048 Taryne Street
Hayden
ID
83835
Drop Off Repair and Sales
Fastenal
204-202 West North Ave
Lombard
IL
60148
630-495-2200
Drop Off Repair and Sales
Fastenal
540 Lewis and Clark Blvd
East Alton
IL
62024
618-251-9414
Drop Off Repair and Sales
Fastenal
770 Morton Avenue
Aurora
IL
60506
630-801-5198
Drop Off Repair and Sales
Fastenal
3525 West Main Street Ste 100
Belleville
IL
62226
618-233-5150
Drop Off Repair and Sales
Fastenal
2337 Newburg Road
Belvidere
IL
61008
815-544-9870
Drop Off Repair and Sales
Fastenal
915 Avalon Way
Bloomington
IL
61705
309-827-7929
Drop Off Repair and Sales
Fastenal
320 S. Kinzie Ave
Bradley
IL
60915
815-932-0251
Drop Off Repair and Sales
Fastenal
317 E. Main St.
Carbondale
IL
62901
618-457-0035
Drop Off Repair and Sales
Fastenal
1200 W Cermak Road
Chicago
IL
60608
312-243-2932
Drop Off Repair and Sales
Fastenal
1902 West Springer
Champaign
IL
61821
217-356-3583
Drop Off Repair and Sales
Fastenal
2427 Braga Dr
Broadview
IL
60155
708-344-5793
Drop Off Repair and Sales
Fastenal
2445 West Bethany Rd.
Sycamore
IL
60178
815-758-7573
Drop Off Repair and Sales
Fastenal
1301 E VOORHEES ST
Danville
IL
61832
217-443-1555
Drop Off Repair and Sales
Fastenal
3115 Grand Prix Drive
Decatur
IL
62526
217-875-0353
Drop Off Repair and Sales
Fastenal
2555 Veterans Drive
Posen
IL
60469
708-489-6835
Drop Off Repair and Sales
Fastenal
607 South Willow
Effingham
IL
62401
217-347-7274
Drop Off Repair and Sales
Fastenal
451 Busse Road
Elk Grove Village
IL
60007
847-640-0729
Drop Off Repair and Sales
Fastenal
18450 S West Creek Drive
Tinley Park
IL
60477
708-444-2347
Drop Off Repair and Sales
Fastenal
1261 Grant Street
Freeport
IL
61032
815-235-3338
Drop Off Repair and Sales
Fastenal
841 Enterprise Ave.
Galesburg
IL
61401
309-344-4900
Drop Off Repair and Sales
Fastenal
4N274 84th Ct.
Hanover Park
IL
60133
Drop Off Repair and Sales
Fastenal
1208 Old Trenton Rd
Highland
IL
62249
618-651-3478
Drop Off Repair and Sales
Fastenal
1825 W. Morton Ave.
Jacksonville
IL
62650
217-245-4443
Drop Off Repair and Sales
Fastenal
2020 McDonough Street
Joliet
IL
60436
815-744-8443
Drop Off Repair and Sales
Fastenal
1162 Flex Court
Lake Zurich
IL
60047
847-438-3152
Drop Off Repair and Sales
Fastenal
320 Washington Blvd. Ste101
Mundelein
IL
60060
847-566-6100
Drop Off Repair and Sales
Fastenal
401 Broadway St.
Lincoln
IL
62656
217-732-1932
Drop Off Repair and Sales
Fastenal
108 N Old Route 66 Unit B
Litchfield
IL
62056
Drop Off Repair and Sales
Fastenal
7315 N. Alpine Suite A
Loves Park
IL
61111
815-316-3281
Drop Off Repair and Sales
Fastenal
1400 East Carroll Street
Macomb
IL
61455
309-837-1623
Drop Off Repair and Sales
Fastenal
Columbia City
IN
46725
Drop Off Repair and Sales
Fastenal
1101 Loxa Road, Suite B
Charleston
IL
61920
217-348-5161
Drop Off Repair and Sales
Fastenal
4751 41st Street
Moline
IL
61265
309-757-7736
Drop Off Repair and Sales
Fastenal
923 Detroit Court, Suite 2
Morton
IL
61550
Drop Off Repair and Sales
Fastenal
1802 N. Division St.
Morris
IL
60450
815-416-0023
Drop Off Repair and Sales
Fastenal
9390 East Illinois Hwy 15
Mount Vernon
IL
62864
618-244-4540
Drop Off Repair and Sales
Fastenal
6291 West Howard St.
Niles
IL
60714
847-588-2211
Drop Off Repair and Sales
Fastenal
4151 MBL Dr
Ottawa
IL
61350
815-431-8076
Drop Off Repair and Sales
Fastenal
1406 S 2nd St.
Pekin
IL
61554
309-346-8356
Drop Off Repair and Sales
Fastenal
#2 Unytite drive
Peru
IL
61354
815-224-4240
Drop Off Repair and Sales
Fastenal
1304 N. Divison Street
Pontiac
IL
61764
Drop Off Repair and Sales
Fastenal
910 SW Jefferson Avenue
Peoria
IL
61605
309-637-1331
Drop Off Repair and Sales
Fastenal
3600 South Marx Dr Suite A
Quincy
IL
62305
217-223-4117
Drop Off Repair and Sales
Fastenal
109 N Century Blvd
Rantoul
IL
61866
217-893-9387
Drop Off Repair and Sales
Fastenal
2935 Eastrock Drive
Rockford
IL
61109
815-229-7711
Drop Off Repair and Sales
Fastenal
981 South 7th Street
Rochelle
IL
61068
815-562-3278
Drop Off Repair and Sales
Fastenal
250 Sundown Rd
South Elgin
IL
60177
847-695-6760
Drop Off Repair and Sales
Fastenal
1341 Sparta Center Drive
Sparta
IL
62286
618-443-2414
Drop Off Repair and Sales
Fastenal
1101 W. Madison Street
Springfield
IL
62702
217-698-4907
Drop Off Repair and Sales
Fastenal
3333 Holeman Ave
Steger
IL
60475
708-755-5553
Drop Off Repair and Sales
Fastenal
2140 Industrial Drive
Sterling
IL
61081
815-622-9120
Drop Off Repair and Sales
Fastenal
6120 S. Archer Road
Summit
IL
60501
708-924-5268
Drop Off Repair and Sales
Fastenal
1403 West Lafayette, Suite #3
Watseka
IL
60970
815-432-0251
Drop Off Repair and Sales
Fastenal
1187 S. Northpoint Blvd.
Waukegan
IL
60085
847-473-3401
Drop Off Repair and Sales
Fastenal
10204 Werch Dr. Unit #306
Woodridge
IL
60517
630-795-1081
Drop Off Repair and Sales
Fastenal
250 Sundown Road
South Elgin
IL
60177
Drop Off Repair and Sales
Fastenal
1094 Johnson Drive
Buffalo Grove
IL
60089
847-459-3282
Drop Off Repair and Sales
Fastenal
11820 Catalpa Lane
Woodstock
IL
60098
815-338-1000
Drop Off Repair and Sales
Fastenal
5330 S Madison Ave
Anderson
IN
46013
765-643-2975
Drop Off Repair and Sales
Fastenal
312 W. Wendell Jacob Ave.
Angola
IN
46703
260-624-2988
Drop Off Repair and Sales
Fastenal
514 K Street
Bedford
IN
47421
812-277-0749
Drop Off Repair and Sales
Fastenal
1180 South Liberty Drive, Suite 110
Bloomington
IN
47403
812-332-8054
Drop Off Repair and Sales
Fastenal
100 W Monroe St
Bluffton
IN
46714
260-827-0153
Drop Off Repair and Sales
Fastenal
Tell City
IN
47586
Drop Off Repair and Sales
Fastenal
3993 N Long Rd.
Columbus
IN
47203
812-378-4234
Drop Off Repair and Sales
Fastenal
1823 US 231 S
Crawfordsville
IN
47933
765-362-1590
Drop Off Repair and Sales
Fastenal
10802 Joliet Street
St. John
IN
46373
Drop Off Repair and Sales
Fastenal
1701 Patterson Street
Decatur
IN
46733
Drop Off Repair and Sales
Fastenal
2020 Middlebury Street
Elkhart
IN
46516
574-293-6599
Drop Off Repair and Sales
Fastenal
1401 Virginia Ave.
Evansville
IN
47711
812-464-5493
Drop Off Repair and Sales
Fastenal
2101 West SR 28
Frankfort
IN
46041
765-654-5330
Drop Off Repair and Sales
Fastenal
4105 Engleton Dr
Fort Wayne
IN
46804
260-434-0643
Drop Off Repair and Sales
Fastenal
1928 W Coliseum Blvd
Fort Wayne
IN
46808
260-471-4053
Drop Off Repair and Sales
Fastenal
1601 W 37th Ave
Hobart
IN
46342
219-945-1800
Drop Off Repair and Sales
Fastenal
1773 Ardmore Court
Goshen
IN
46526
574-534-9975
Drop Off Repair and Sales
Fastenal
1429 W Main St
Greenfield
IN
46140
317-467-0520
Drop Off Repair and Sales
Fastenal
1049 Indianapolis Rd.
Greencastle
IN
46135
Drop Off Repair and Sales
Fastenal
603 W. Main St
Greensburg
IN
47240
812-662-8339
Drop Off Repair and Sales
Fastenal
1301 W. Chicago Ave.
East Chicago
IN
46312
219-398-1277
Drop Off Repair and Sales
Fastenal
22 Commerce Dr.
Huntington
IN
46750
260-358-1879
Drop Off Repair and Sales
Fastenal
11 Declaration Drive, Suite Q
Greenwood
IN
46143
317-887-0685
Drop Off Repair and Sales
Fastenal
14775 Herriman Blvd
Noblesville
IN
46060
317-770-0649
Drop Off Repair and Sales
Fastenal
6003 Guion Road - Suite A
Indianapolis
IN
46254
317-472-4440
Drop Off Repair and Sales
Fastenal
930 W. 16th Street
Indianapolis
IN
46202
317-925-2098
Drop Off Repair and Sales
Fastenal
3152 North Shadeland Avenue
Indianapolis
IN
46226
317-377-1706
Drop Off Repair and Sales
Fastenal
2340 East Perry Rd, Suite 109
Plainfield
IN
46168
Drop Off Repair and Sales
Fastenal
2330 Profit Drive
Indianapolis
IN
46241
317-243-2800
Drop Off Repair and Sales
Fastenal
281 Newton Street
Jasper
IN
47546
812-481-1717
Drop Off Repair and Sales
Fastenal
3319 Industrial Parkway
Jeffersonville
IN
47130
812-284-4372
Drop Off Repair and Sales
Fastenal
2652 E. North St.
Kendallville
IN
46755
260-349-9046
Drop Off Repair and Sales
Fastenal
561 N. Grandstaff Drive
Auburn
IN
46706
260-927-9983
Drop Off Repair and Sales
Fastenal
1620 E. North Street
Kokomo
IN
46901
765-452-2951
Drop Off Repair and Sales
Fastenal
2841 Concord Road, Unit B
Lafayette
IN
47909
765-477-9650
Drop Off Repair and Sales
Fastenal
701 Fail Road
La Porte
IN
46350
219-324-4379
Drop Off Repair and Sales
Fastenal
384 N. Mount Zion Rd
Lebanon
IN
46052
Drop Off Repair and Sales
Fastenal
11 Wolf Rd.
Logansport
IN
46947
574-753-9458
Drop Off Repair and Sales
Fastenal
2587C Cragmont Street
Madison
IN
47250
812-265-1516
Drop Off Repair and Sales
Fastenal
626 E. 4th St.
Marion
IN
46952
765-662-7938
Drop Off Repair and Sales
Fastenal
2711 E. Michigan Blvd.
Michigan City
IN
46360
219-872-4644
Drop Off Repair and Sales
Fastenal
1600 S. Main St
Middlebury
IN
46540
574-825-2008
Drop Off Repair and Sales
Fastenal
2114 Lynn Street
Mishawaka
IN
46545
574-259-8706
Drop Off Repair and Sales
Fastenal
114 N. Railroad St.
Monticello
IN
47960
574-583-0567
Drop Off Repair and Sales
Fastenal
920 E. 4th Street
Mount Vernon
IN
47620
812-838-3770
Drop Off Repair and Sales
Fastenal
1316 N. Wheeling Ave
Muncie
IN
47303
765-282-6528
Drop Off Repair and Sales
Fastenal
251 Dal Mar Way
Nappanee
IN
46550
574-773-3278
Drop Off Repair and Sales
Fastenal
721 S. Memorial Drive
New Castle
IN
47362
765-521-2223
Drop Off Repair and Sales
Fastenal
1005 Rodgers Park Drive
North Vernon
IN
47265
812-346-2208
Drop Off Repair and Sales
Fastenal
1998 W. Jefferson St.
Plymouth
IN
46563
574-935-4208
Drop Off Repair and Sales
Fastenal
1376 West Votaw Street
Portland
IN
47371
Drop Off Repair and Sales
Fastenal
1103 S. Main St.
Princeton
IN
47670
812-385-1238
Drop Off Repair and Sales
Fastenal
107 W Drexel Pkwy
Rensselaer
IN
47978
219-866-7478
Drop Off Repair and Sales
Fastenal
1530 NW 5th St.
Richmond
IN
47374
765-935-4098
Drop Off Repair and Sales
Fastenal
79 N. Gardner St.
Scottsburg
IN
47170
Drop Off Repair and Sales
Fastenal
722 East Tipton St.
Seymour
IN
47274
812-523-0071
Drop Off Repair and Sales
Fastenal
245 Northridge Dr. Ste B-C
Shelbyville
IN
46176
317-398-7889
Drop Off Repair and Sales
Fastenal
3218 Sugar Maple Court Unit A
South Bend
IN
46628
574-234-8708
Drop Off Repair and Sales
Fastenal
New Bedford
MA
2740
Drop Off Repair and Sales
Fastenal
1009 Poplar St.
Terre Haute
IN
47807
812-232-6000
Drop Off Repair and Sales
Fastenal
4700 Airport Drive
Valparaiso
IN
46383
219-531-8777
Drop Off Repair and Sales
Fastenal
2803 North 6th Street
Vincennes
IN
47591
812-886-5877
Drop Off Repair and Sales
Fastenal
1420 south Wabash Ave.
Wabash
IN
46992
260-563-3462
Drop Off Repair and Sales
Fastenal
133 Enterprise Drive
Warsaw
IN
46580
574-268-1076
Drop Off Repair and Sales
Fastenal
1416 south Santa Fe
Chanute
KS
66720
620-431-3423
Drop Off Repair and Sales
Fastenal
2270 Southwind Ave
Colby
KS
67701
785-460-2644
Drop Off Repair and Sales
Fastenal
1306 W. 11th St.
Coffeyville
KS
67337
620-251-3722
Drop Off Repair and Sales
Fastenal
115 E. 13th St.
Concordia
KS
66901
785-243-7000
Drop Off Repair and Sales
Fastenal
11140 Kliesen St.
Dodge City
KS
67801
620-225-4700
Drop Off Repair and Sales
Fastenal
2502 W. Central Ave.
El Dorado
KS
67042
316-320-2223
Drop Off Repair and Sales
Fastenal
2914 W. Hwy 50 Suite E
Emporia
KS
66801
620-342-5360
Drop Off Repair and Sales
Fastenal
2411 South Main Street
Fort Scott
KS
66701
620-223-1845
Drop Off Repair and Sales
Fastenal
1706 E Harding Ave
Garden City
KS
67846
620-271-9566
Drop Off Repair and Sales
Fastenal
4114 W. 10th St.
Great Bend
KS
67530
620-792-5800
Drop Off Repair and Sales
Fastenal
1110 E 13th
Hays
KS
67601
785-625-3939
Drop Off Repair and Sales
Fastenal
705 E. 30th
Hutchinson
KS
67502
620-663-5600
Drop Off Repair and Sales
Fastenal
2801 West Main Suite C
Independence
KS
67301
620-331-9563
Drop Off Repair and Sales
Fastenal
9154 Woodend Road Ste B
Edwardsville
KS
66111
913-422-3278
Drop Off Repair and Sales
Fastenal
829 E Warren
Gardner
KS
66030
913-856-4949
Drop Off Repair and Sales
Fastenal
14400 West 105th St. Suite A
Lenexa
KS
66215
913-492-9350
Drop Off Repair and Sales
Fastenal
3104 D. Haskell Ave
Lawrence
KS
66046
785-842-9861
Drop Off Repair and Sales
Fastenal
5100 South 13th
Leavenworth
KS
66048
913-651-4433
Drop Off Repair and Sales
Fastenal
832 E Pancake Blvd
Liberal
KS
67901
620-626-6007
Drop Off Repair and Sales
Fastenal
8075 E Hwy 24
Manhattan
KS
66502
785-565-9663
Drop Off Repair and Sales
Fastenal
301 North 81 Bypass
McPherson
KS
67460
620-241-6300
Drop Off Repair and Sales
Fastenal
1200 Washington RD.
Newton
KS
67114
316-283-2266
Drop Off Repair and Sales
Fastenal
514 North Main
Ottawa
KS
66067
785-242-0902
Drop Off Repair and Sales
Fastenal
800 S. 16th St
Parsons
KS
67357
620-421-1808
Drop Off Repair and Sales
Fastenal
CLOSED 122 E 3rd ST
Pittsburg
KS
66762
620-231-7887
Drop Off Repair and Sales
Fastenal
1422 South Old Highway 75
Sabetha
KS
66534
785-284-2233
Drop Off Repair and Sales
Fastenal
330 E. Schilling Rd.
Salina
KS
67401
785-825-1900
Drop Off Repair and Sales
Fastenal
100 S.E. Monroe
Topeka
KS
66603
785-232-1098
Drop Off Repair and Sales
Fastenal
3040 N Ohio
Wichita
KS
67219
316-265-1961
Drop Off Repair and Sales
Fastenal
800 Nelson Drive
Derby
KS
67037
316-789-9143
Drop Off Repair and Sales
Fastenal
2461 South Leonine Street
Wichita
KS
67217
316-941-4400
Drop Off Repair and Sales
Fastenal
1700 N. Summit
Arkansas City
KS
67005
620-741-0869
Drop Off Repair and Sales
Fastenal
101 A Parkview Dr.
Glasgow
KY
42141
270-629-4377
Drop Off Repair and Sales
Fastenal
2125 Winchester Ave.
Ashland
KY
41101
606-324-1116
Drop Off Repair and Sales
Fastenal
101 Wildcat Ln.
Bardstown
KY
40004
502-348-3375
Drop Off Repair and Sales
Fastenal
378 Scotty's Way
Bowling Green
KY
42101
270-780-9830
Drop Off Repair and Sales
Fastenal
125 Flex Park Drive
Bowling Green
KY
42101
270-780-3655
Drop Off Repair and Sales
Fastenal
21 Tiffany Lane
Calvert City
KY
42029
270-395-8098
Drop Off Repair and Sales
Fastenal
302 Main Street
Ghent
KY
41045
502-347-8500
Drop Off Repair and Sales
Fastenal
6644 S US Highway 25
Corbin
KY
40701
606-528-4155
Drop Off Repair and Sales
Fastenal
25 Miranda Ln
Columbia
KY
42728
270-380-1044
Drop Off Repair and Sales
Fastenal
108 Man O War Blvd.
Danville
KY
40422
859-936-0713
Drop Off Repair and Sales
Fastenal
405 E. Dixie Highway
Elizabethtown
KY
42701
270-737-7902
Drop Off Repair and Sales
Fastenal
1390 Donaldson Rd
Erlanger
KY
41018
859-371-3511
Drop Off Repair and Sales
Fastenal
117 Collision Center Drive
Frankfort
KY
40601
502-848-0158
Drop Off Repair and Sales
Fastenal
100 Summer Court
Georgetown
KY
40324
502-868-0283
Drop Off Repair and Sales
Fastenal
302 North College Street, Suite 1
Harrodsburg
KY
40330
859-734-7676
Drop Off Repair and Sales
Fastenal
1818 Petersburg Rd.
Hebron
KY
41048
859-689-0555
Drop Off Repair and Sales
Fastenal
3040 Ohio Dr.
Henderson
KY
42420
270-869-8233
Drop Off Repair and Sales
Fastenal
4665 Pembroke Rd.
Hopkinsville
KY
42240
270-881-4041
Drop Off Repair and Sales
Fastenal
114 Cemetery Rd
Lebanon
KY
40033
270-692-0704
Drop Off Repair and Sales
Fastenal
216 Wilson Court
Nicholasville
KY
40356
859-887-2658
Drop Off Repair and Sales
Fastenal
897 Nandino Blvd, Ste 4
Lexington
KY
40511
859-226-0560
Drop Off Repair and Sales
Fastenal
1080 Salt River Rd
Leitchfield
KY
42754
270-230-0260
Drop Off Repair and Sales
Fastenal
973 Beasley St., Suite 120
Lexington
KY
40509
Drop Off Repair and Sales
Fastenal
1030 South 9th Street
Louisville
KY
40203
Drop Off Repair and Sales
Fastenal
3600 Chamberlain Lane, Ste 214
Louisville
KY
40241
502-425-0976
Drop Off Repair and Sales
Fastenal
4530 Bishop Lane
Louisville
KY
40218
502-458-9924
Drop Off Repair and Sales
Fastenal
110 Kings Dr.
Mayfield
KY
42066
270-247-4845
Drop Off Repair and Sales
Fastenal
671 Sawmill Pike
Maysville
KY
41056
606-759-5456
Drop Off Repair and Sales
Fastenal
360 East Wilkinson Blvd
Morehead
KY
40351
606-780-0650
Drop Off Repair and Sales
Fastenal
511 Willin Way
Mt Sterling
KY
40353
859-498-7094
Drop Off Repair and Sales
Fastenal
1900 N 12th St Ste C
Murray
KY
42071
270-753-8193
Drop Off Repair and Sales
Fastenal
1627 Sweeney Street
Owensboro
KY
42303
270-686-7533
Drop Off Repair and Sales
Fastenal
847 N.H.C. Mathis Dr.
Paducah
KY
42001
270-441-7230
Drop Off Repair and Sales
Fastenal
2216 Martin Luther King Blvd.
Paris
KY
40361
859-987-2944
Drop Off Repair and Sales
Fastenal
123 Star Lane
Pikeville
KY
41501
606-432-8633
Drop Off Repair and Sales
Fastenal
6013 Atwood Dr. Suite 100
Richmond
KY
40475
859-624-2136
Drop Off Repair and Sales
Fastenal
106 Walker Ln.
Russellville
KY
42276
Drop Off Repair and Sales
Fastenal
251 Alpine Drive
Shelbyville
KY
40065
502-647-2103
Drop Off Repair and Sales
Fastenal
128 Carter Ave
Louisville
KY
40229
502-957-0291
Drop Off Repair and Sales
Fastenal
375 Browning Road
Somerset
KY
42503
606-451-9688
Drop Off Repair and Sales
Fastenal
4733 Rockwell Road
Winchester
KY
40391
859-745-2701
Drop Off Repair and Sales
Fastenal
832 Dallas Ave.
Alexandria
LA
71302
318-442-6400
Drop Off Repair and Sales
Fastenal
1020 Commercial Dr
Port Allen
LA
70767
225-389-0829
Drop Off Repair and Sales
Fastenal
11965 Lakeland Park Blvd
Baton Rouge
LA
70809
225-751-2441
Drop Off Repair and Sales
Fastenal
766 Chippewa Street
Baton Rouge
LA
70805
225-242-1351
Drop Off Repair and Sales
Fastenal
11931 Industriplex Blvd. Suite 700
Baton Rouge
LA
70809
Drop Off Repair and Sales
Fastenal
12602 Hwy 21 South
Bogalusa
LA
70427
Drop Off Repair and Sales
Fastenal
4911-B Shed Road
Bossier City
LA
71111
318-747-9795
Drop Off Repair and Sales
Fastenal
178 Alliance Court
Houma
LA
70360
Drop Off Repair and Sales
Fastenal
9460 Ashland Rd.
Gonzales
LA
70737
225-644-0627
Drop Off Repair and Sales
Fastenal
2500 West Church St.
Hammond
LA
70401
985-429-0511
Drop Off Repair and Sales
Fastenal
55 Coquille Dr.
Belle Chasse
LA
70037
504-392-4446
Drop Off Repair and Sales
Fastenal
178 Alliance Crt
Houma
LA
70360
985-223-2047
Drop Off Repair and Sales
Fastenal
202 S Cutting Ave
Jennings
LA
70546
337-616-8046
Drop Off Repair and Sales
Fastenal
4205 Cameron St.
Lafayette
LA
70506
337-232-3665
Drop Off Repair and Sales
Fastenal
3407 Hwy 90E
Broussard
LA
70518
337-839-5553
Drop Off Repair and Sales
Fastenal
1100 East McNeese St.
Lake Charles
LA
70607
337-477-5497
Drop Off Repair and Sales
Fastenal
1253 Entrance Road
Leesville
LA
71446
337-535-4832
Drop Off Repair and Sales
Fastenal
68665 Highway 59
Mandeville
LA
70471
985-809-0224
Drop Off Repair and Sales
Fastenal
448 Hwy 531
Minden
LA
71055
318-382-0116
Drop Off Repair and Sales
Fastenal
704 N 31st St.
Monroe
LA
71201
318-699-8670
Drop Off Repair and Sales
Fastenal
7838 Hwy 182E
Morgan City
LA
70380
Drop Off Repair and Sales
Fastenal
506 Rapides Dr.
Natchitoches
LA
71457
318-354-0996
Drop Off Repair and Sales
Fastenal
207 Woodland Dr.
Laplace
LA
70068
985-652-9586
Drop Off Repair and Sales
Fastenal
7333 Airline Hwy
Metairie
LA
70003
504-818-0948
Drop Off Repair and Sales
Fastenal
4431 Euphrosine St. Suite B&C
New Orleans
LA
70125
504-821-7855
Drop Off Repair and Sales
Fastenal
621 Distributors Row, Suite C
Elmwood
LA
70123
504-736-9778
Drop Off Repair and Sales
Fastenal
1708 E. Kentucky
Ruston
LA
71270
318-255-1827
Drop Off Repair and Sales
Fastenal
7270 West Bert Kouns
Shreveport
LA
71129
318-683-1606
Drop Off Repair and Sales
Fastenal
3325 E Napoleon Street
Sulphur
LA
70663
337-626-0659
Drop Off Repair and Sales
Fastenal
215 Plain St. Unit#11
North Attleboro
MA
2760
508-699-2658
Drop Off Repair and Sales
Fastenal
150 Eastern Ave
Chelsea
MA
2150
617-660-9170
Drop Off Repair and Sales
Fastenal
165 Wood Road
Braintree
MA
2184
781-380-2257
Drop Off Repair and Sales
Fastenal
793 West Center Street
West Bridgewater
MA
2379
508-580-0956
Drop Off Repair and Sales
Fastenal
509 Thomas B. Landers Road
East Falmouth
MA
2536
Drop Off Repair and Sales
Fastenal
565 Commerce Dr.
Fall River
MA
2720
508-676-2260
Drop Off Repair and Sales
Fastenal
100 Crawford Street, Suite 1
Leominster
MA
1453
978-514-9999
Drop Off Repair and Sales
Fastenal
198 Pleasant St.
Ashland
MA
1721
Drop Off Repair and Sales
Fastenal
155 Rosary Ln
Hyannis
MA
2601
508-775-0857
Drop Off Repair and Sales
Fastenal
670 South Union Street
Lawrence
MA
1843
978-984-7042
Drop Off Repair and Sales
Fastenal
37 Ayer Rd.
Littleton
MA
1460
Drop Off Repair and Sales
Fastenal
101 Brick Kiln Rd Units 1&2
Chelmsford
MA
1824
978-970-3278
Drop Off Repair and Sales
Fastenal
380 Second St.
Everett
MA
2149
617-387-3427
Drop Off Repair and Sales
Fastenal
Canton
MA
2021
Drop Off Repair and Sales
Fastenal
4 Mulliken Way
Newburyport
MA
1950
978-462-4576
Drop Off Repair and Sales
Fastenal
Lansing
MI
48912
Drop Off Repair and Sales
Fastenal
25 Rundlett Way Unit #9
Middleton
MA
1949
978-774-0213
Drop Off Repair and Sales
Fastenal
1430 East Street
Pittsfield
MA
1201
413-445-4800
Drop Off Repair and Sales
Fastenal
4 Natalie Way
Plymouth
MA
2360
508-747-9637
Drop Off Repair and Sales
Fastenal
753 Forest St. Unit 300
Marlborough
MA
1752
508-481-2671
Drop Off Repair and Sales
Fastenal
190 Brookdale Road
Springfield
MA
1104
413-747-5077
Drop Off Repair and Sales
Fastenal
121 Summit Lock Road
Westfield
MA
1085
Drop Off Repair and Sales
Fastenal
26 Kenwood Street
Greenfield
MA
1301
413-772-0560
Drop Off Repair and Sales
Fastenal
259 Brooks St.
Worcester
MA
1606
508-853-3414
Drop Off Repair and Sales
Fastenal
134A New Boston Road
Woburn
MA
1801
781-938-1250
Drop Off Repair and Sales
Fastenal
3 Boulder Parkway
North Oxford
MA
1537
508-987-6715
Drop Off Repair and Sales
Fastenal
1040 Hardees Drive Unit G
Aberdeen
MD
21001
410-272-3558
Drop Off Repair and Sales
Fastenal
1816 Margaret Ave
Annapolis
MD
21401
Drop Off Repair and Sales
Fastenal
5189 Raynor Ave
Linthicum
MD
21090
410-609-2300
Drop Off Repair and Sales
Fastenal
1008 Russell St.
Baltimore
MD
21230
410-837-3043
Drop Off Repair and Sales
Fastenal
10004 Pulaski Hwy
Baltimore
MD
21220
410-391-8491
Drop Off Repair and Sales
Fastenal
7377 Washington Blvd
Elkridge
MD
21075
410-379-0566
Drop Off Repair and Sales
Fastenal
715 East Ordnace Road`
Baltimore
MD
21226
410-424-2063
Drop Off Repair and Sales
Fastenal
6501 A Pulaski Hwy
Baltimore
MD
21237
Drop Off Repair and Sales
Fastenal
807 Chesapeake Drive
Cambridge
MD
21613
410-901-1327
Drop Off Repair and Sales
Fastenal
9090 Junction Drive, Suite 5
Annapolis Junction
MD
20701
301-317-1250
Drop Off Repair and Sales
Fastenal
11201 Dolfield Blvd, suite 109
Owings Mills
MD
21117
410-356-3304
Drop Off Repair and Sales
Fastenal
349E Pulaski Highway
Elkton
MD
21921
410-392-5924
Drop Off Repair and Sales
Fastenal
200 Ritchie Road
Capitol Heights
MD
20743
301-336-7492
Drop Off Repair and Sales
Fastenal
5115 Pegasus Ct. Suites K-L
Frederick
MD
21704
301-620-2616
Drop Off Repair and Sales
Fastenal
16820 Oakmont Avenue
Gaithersburg
MD
20877
301-977-2606
Drop Off Repair and Sales
Fastenal
1120 Business Center Dr.
Hagerstown
MD
21740
301-791-0445
Drop Off Repair and Sales
Fastenal
44040 Airport View Dr. Ste E
Hollywood
MD
20636
Drop Off Repair and Sales
Fastenal
5212 Sunnyside Ave
Beltsville
MD
20705
301-931-6811
Drop Off Repair and Sales
Fastenal
147B Service Center Dr.
Oakland
MD
21550
Drop Off Repair and Sales
Fastenal
1147 Ocean Hwy Unit 5
Pocomoke City
MD
21851
Drop Off Repair and Sales
Fastenal
2227 Northwood Drive
Salisbury
MD
21801
410-219-5101
Drop Off Repair and Sales
Fastenal
9490 Deereco Road
Timonium
MD
21093
Drop Off Repair and Sales
Fastenal
3472 Rockefeller Ct.
Waldorf
MD
20602
301-632-6386
Drop Off Repair and Sales
Fastenal
1050 W. Industrial Blvd.
Cumberland
MD
21502
301-759-4000
Drop Off Repair and Sales
Fastenal
125 Airport Dr Suite 16
Westminster
MD
21157
Drop Off Repair and Sales
Fastenal
747 Minot Avenue
Auburn
ME
4210
207-777-5243
Drop Off Repair and Sales
Fastenal
19 White Pine Rd
Hermon
ME
4401
207-848-7774
Drop Off Repair and Sales
Fastenal
10-A Arctic Circle
Biddeford
ME
4005
207-282-4688
Drop Off Repair and Sales
Fastenal
1084 Augusta Rd
Winslow
ME
4901
207-859-2660
Drop Off Repair and Sales
Fastenal
19 Boggy Brook Road
Ellsworth
ME
4605
207-667-9069
Drop Off Repair and Sales
Fastenal
56 Western Ave, Suite 4
Augusta
ME
4330
Drop Off Repair and Sales
Fastenal
747 Minot Ave
Lewiston
ME
4240
207-777-7148
Drop Off Repair and Sales
Fastenal
68 Industrial Street
Presque Isle
ME
4769
207-762-0000
Drop Off Repair and Sales
Fastenal
174 Airport Rd
Sanford
ME
4073
207-324-5454
Drop Off Repair and Sales
Fastenal
125 John Roberts Road Unit 6
South Portland
ME
4106
207-879-0948
Drop Off Repair and Sales
Fastenal
12 Moran Dr Unit F
Rockland
ME
4841
207-594-1715
Drop Off Repair and Sales
Fastenal
825 E. Beecher St.
Adrian
MI
49221
Drop Off Repair and Sales
Fastenal
3540 US 23 N
Alpena
MI
49707
989-356-9074
Drop Off Repair and Sales
Fastenal
3720 Wilder Rd. Suite D
Bay City
MI
48706
Drop Off Repair and Sales
Fastenal
1148 N. VanDyke Suite A
Bad Axe
MI
48413
Drop Off Repair and Sales
Fastenal
237 North 30th Street
Springfield
MI
49037
269-968-3133
Drop Off Repair and Sales
Fastenal
2460 M-139, Suite A
Benton Harbor
MI
49022
269-925-3666
Drop Off Repair and Sales
Fastenal
1417 N. State St.
Big Rapids
MI
49307
231-796-2347
Drop Off Repair and Sales
Fastenal
7041 Grand River Unit 400
Brighton
MI
48114
810-225-6098
Drop Off Repair and Sales
Fastenal
7547 Boon Rd
Cadillac
MI
49601
231-779-9778
Drop Off Repair and Sales
Fastenal
37820 Ford Rd.
Westland
MI
48185
734-728-2202
Drop Off Repair and Sales
Fastenal
24300 Sherwood
Centerline
MI
48015
586-427-3954
Drop Off Repair and Sales
Fastenal
6585 M-66 North
Charlevoix
MI
49720
231-237-0061
Drop Off Repair and Sales
Fastenal
48335 Gratiot Ave
Chesterfield
MI
48051
Drop Off Repair and Sales
Fastenal
50 Cecil Drive
Coldwater
MI
49036
517-279-1688
Drop Off Repair and Sales
Fastenal
4080 Varsity Drive
Ann Arbor
MI
48108
734-477-6973
Drop Off Repair and Sales
Fastenal
28777 Goddard, Ste 205
Romulus
MI
48174
734-941-3402
Drop Off Repair and Sales
Fastenal
31815 West 8 Mile Road
Livonia
MI
48152
248-426-8778
Drop Off Repair and Sales
Fastenal
50160 Pontiac Trail Unit #3
Wixom
MI
48393
248-624-5969
Drop Off Repair and Sales
Fastenal
13097 Huron Street
Taylor
MI
48180
734-287-2306
Drop Off Repair and Sales
Fastenal
1139 Centre Rd
Auburn Hills
MI
48326
248-377-3834
Drop Off Repair and Sales
Fastenal
1016 N. 30th St.
Escanaba
MI
49829
906-786-3193
Drop Off Repair and Sales
Fastenal
5366 Hill 23 Drive
Flint
MI
48507
810-232-3293
Drop Off Repair and Sales
Fastenal
1150 S. Otsego Ave
Gaylord
MI
49735
989-731-0076
Drop Off Repair and Sales
Fastenal
2204-C Turner Ave.
Walker
MI
49544
616-361-5791
Drop Off Repair and Sales
Fastenal
4425 44th St. SE
Kentwood
MI
49512
616-957-2311
Drop Off Repair and Sales
Fastenal
916 Chicago Dr
Jenison
MI
49428
Drop Off Repair and Sales
Fastenal
12201 Northland Drive
Cedar Springs
MI
49319
Drop Off Repair and Sales
Fastenal
1051 Jackson St.
Grand Haven
MI
49417
616-844-7460
Drop Off Repair and Sales
Fastenal
403 44th St. SW
Wyoming
MI
49548
616-406-1860
Drop Off Repair and Sales
Fastenal
510 W. Gordon Street
Zeeland
MI
49464
616-772-6187
Drop Off Repair and Sales
Fastenal
2209 East High Street
Jackson
MI
49203
517-780-9118
Drop Off Repair and Sales
Fastenal
541 Industrial Pkwy
Jonesville
MI
49250
Drop Off Repair and Sales
Fastenal
3620 Miller Road
Kalamazoo
MI
49001
269-342-0073
Drop Off Repair and Sales
Fastenal
660 South Carpenter
Kingsford
MI
49802
906-774-5073
Drop Off Repair and Sales
Fastenal
4212 S. Creyts Rd.
Lansing
MI
48917
517-322-3066
Drop Off Repair and Sales
Fastenal
Sidney
MT
59270
Drop Off Repair and Sales
Fastenal
1444 Imlay City Road
Lapeer
MI
48446
810-245-2374
Drop Off Repair and Sales
Fastenal
4905 West U.S. 10
Ludington
MI
49431
231-843-8788
Drop Off Repair and Sales
Fastenal
356 US-41 West
Negaunee
MI
49866
906-475-4954
Drop Off Repair and Sales
Fastenal
84 Division St.
Manistee
MI
49660
231-398-0737
Drop Off Repair and Sales
Fastenal
403 E. Sharon Avenue
Houghton
MI
49931
906-482-5620
Drop Off Repair and Sales
Fastenal
1708 Bay City Road
Midland
MI
48642
989-495-0438
Drop Off Repair and Sales
Fastenal
500 Detroit Avenue
Monroe
MI
48162
734-457-2685
Drop Off Repair and Sales
Fastenal
3715 S. Isabella Rd.
Mt Pleasant
MI
48858
989-779-8221
Drop Off Repair and Sales
Fastenal
1537 S. Getty
Muskegon
MI
49442
231-727-0568
Drop Off Repair and Sales
Fastenal
1470 N M-52
Owosso
MI
48867
989-723-7942
Drop Off Repair and Sales
Fastenal
3805 Lapeer Rd. Unit A
Port Huron
MI
48060
810-984-5496
Drop Off Repair and Sales
Fastenal
101 Peyerk Ct
Romeo
MI
48065
586-752-3085
Drop Off Repair and Sales
Fastenal
3542 I-75 Business Spur
Sault S Marie
MI
49783
906-635-1348
Drop Off Repair and Sales
Fastenal
34500 Bennett Drive
Fraser
MI
48026
586-541-8385
Drop Off Repair and Sales
Fastenal
1161 West West Street
Sturgis
MI
49091
269-651-5275
Drop Off Repair and Sales
Fastenal
207 E. Lake Street
Tawas City
MI
48763
989-362-2080
Drop Off Repair and Sales
Fastenal
1424 Trade Center Dr.
Traverse City
MI
49696
231-947-7665
Drop Off Repair and Sales
Fastenal
1103 Sykes Street
Albert Lea
MN
56007
507-377-7026
Drop Off Repair and Sales
Fastenal
2710 State Highway 29 South
Alexandria
MN
56308
320-763-9220
Drop Off Repair and Sales
Fastenal
702 17th Ave NW
Austin
MN
55912
507-433-2849
Drop Off Repair and Sales
Fastenal
13259 Dogwood Drive
Baxter
MN
56425
218-825-1906
Drop Off Repair and Sales
Fastenal
2400 Cram Ave SE
Bemidji
MN
56601
218-751-0076
Drop Off Repair and Sales
Fastenal
701 Garfield Street South
Cambridge
MN
55008
763-689-4242
Drop Off Repair and Sales
Fastenal
723 1st Street SE
Richmond
MN
56368
320-597-6511
Drop Off Repair and Sales
Fastenal
2681 HWY 10 WEST
Detroit Lakes
MN
56501
218-847-0937
Drop Off Repair and Sales
Fastenal
3824 West Superior St.
Duluth
MN
55807
218-727-0939
Drop Off Repair and Sales
Fastenal
3101 Industrial Drive STE100
Faribault
MN
55021
507-334-1574
Drop Off Repair and Sales
Fastenal
11044 Industrial Circle NW Ste # P
Elk River
MN
55330
763-441-0826
Drop Off Repair and Sales
Fastenal
1101 Division Street West
Faribault
MN
55021
Drop Off Repair and Sales
Fastenal
924 East 10th Street
Fairmont
MN
56031
507-235-8335
Drop Off Repair and Sales
Fastenal
833 North Tower Road
Fergus Falls
MN
56537
218-736-2220
Drop Off Repair and Sales
Fastenal
1340 East Hwy 169
Grand Rapids
MN
55744
218-327-5465
Drop Off Repair and Sales
Fastenal
1401 East 37th Street
Hibbing
MN
55746
218-262-5802
Drop Off Repair and Sales
Fastenal
945 Fifth Avenue S.E. Unit 5
Hutchinson
MN
55350
320-587-0314
Drop Off Repair and Sales
Fastenal
21483 Grenada Ave. Suite 140
Lakeville
MN
55044
952-985-4201
Drop Off Repair and Sales
Fastenal
609 13th Avenue NE Suite 2
Little Falls
MN
56345
320-616-5801
Drop Off Repair and Sales
Fastenal
303 South Gorman Ave Ste 100
Litchfield
MN
55355
320-693-2315
Drop Off Repair and Sales
Fastenal
150 Pauley Way
Mankato
MN
56001
507-388-6400
Drop Off Repair and Sales
Fastenal
702 Erie Road
Marshall
MN
56258
507-532-3994
Drop Off Repair and Sales
Fastenal
812 N 16th St
Montevideo
MN
56265
320-269-9460
Drop Off Repair and Sales
Fastenal
210 Dundas Rd st 200 and 300
Monticello
MN
55362
763-295-8545
Drop Off Repair and Sales
Fastenal
723 Iowa Ave
Morris
MN
56267
320-589-0144
Drop Off Repair and Sales
Fastenal
1600 Westridge Rd.
New Ulm
MN
56073
507-354-9390
Drop Off Repair and Sales
Fastenal
1065 26th Place NW
Owatonna
MN
55060
507-455-0731
Drop Off Repair and Sales
Fastenal
2950 Xenium Ln N Suite 150
Plymouth
MN
55441
Drop Off Repair and Sales
Fastenal
403 Farmer St. NW
Preston
MN
55965
507-765-5456
Drop Off Repair and Sales
Fastenal
1587 Hay Creek Valley Road
Red Wing
MN
55066
651-267-0716
Drop Off Repair and Sales
Fastenal
1129 E 2nd St.
Redwood Falls
MN
56283
507-616-1291
Drop Off Repair and Sales
Fastenal
1680 Industrial Drive NW
Rochester
MN
55901
507-288-3025
Drop Off Repair and Sales
Fastenal
930 Pennington Ave.
Thief River Falls
MN
56701
218-681-8200
Drop Off Repair and Sales
Fastenal
1225 Timberlane Dr. Unit #2
Sauk Centre
MN
56378
320-352-1095
Drop Off Repair and Sales
Fastenal
1011 Benton Drive South
Sauk Rapids
MN
56379
320-253-4544
Drop Off Repair and Sales
Fastenal
6268 HWY 101
Shakopee
MN
55379
952-403-7877
Drop Off Repair and Sales
Fastenal
1441 85th Ave NE.
Blaine
MN
55449
763-783-3645
Drop Off Repair and Sales
Fastenal
640 54th Avenue, North Ste B
Saint Cloud
MN
56303
320-240-2334
Drop Off Repair and Sales
Fastenal
8600 Excelsior Blvd.
Hopkins
MN
55343
Drop Off Repair and Sales
Fastenal
1725 Lake Drive West
Chanhassen
MN
55317
Drop Off Repair and Sales
Fastenal
615 Hale Ave N
Oakdale
MN
55128
651-482-8702
Drop Off Repair and Sales
Fastenal
12150 12th Avenue South
Burnsville
MN
55337
952-808-2658
Drop Off Repair and Sales
Fastenal
1725 Lake Dr W.
Chanhassen
MN
55317
952-361-3120
Drop Off Repair and Sales
Fastenal
1467 Lake Street South Suite 100
Forest Lake
MN
55025
651-464-4320
Drop Off Repair and Sales
Fastenal
4111 Mackenzie Ct. NE Ste 400
Saint Michael
MN
55376
763-428-3541
Drop Off Repair and Sales
Fastenal
1920 Oakcrest Ave Suite 8
Roseville
MN
55113
651-636-5364
Drop Off Repair and Sales
Fastenal
650 Olive Street
Saint Paul
MN
55130
651-602-0115
Drop Off Repair and Sales
Fastenal
9201 E. Bloomington Freeway Rd.
Bloomington
MN
55420
952-854-3752
Drop Off Repair and Sales
Fastenal
6937 Hwy 10 Suite 180
Ramsey
MN
55303
763-421-2743
Drop Off Repair and Sales
Fastenal
8307 Brooklyn Boulevard
Brooklyn Park
MN
55445
763-315-4624
Drop Off Repair and Sales
Fastenal
870 Stanley Road
Two Harbors
MN
55616
218-834-3278
Drop Off Repair and Sales
Fastenal
225 Industrial Blvd
Waconia
MN
55387
952-442-4054
Drop Off Repair and Sales
Fastenal
115 1st St. SE
Wadena
MN
56482
218-631-2124
Drop Off Repair and Sales
Fastenal
140 SE 25th Street
Willmar
MN
56201
320-235-4482
Drop Off Repair and Sales
Fastenal
1275 Riverview Dr.
Winona
MN
55987
507-454-5361
Drop Off Repair and Sales
Fastenal
250 Industrial Lane
Worthington
MN
56187
507-372-5663
Drop Off Repair and Sales
Fastenal
1207 NW Pamela Blvd.
Grain Valley
MO
64029
816-847-5192
Drop Off Repair and Sales
Fastenal
2237 Fairlawn Drive
Carthage
MO
64836
417-358-2220
Drop Off Repair and Sales
Fastenal
2561 Bloomfield Rd
Cape Girardeau
MO
63701
573-339-7872
Drop Off Repair and Sales
Fastenal
810 S. Washington
Chillicothe
MO
64601
660-707-1828
Drop Off Repair and Sales
Fastenal
1919 Paris Road
Columbia
MO
65201
573-886-6066
Drop Off Repair and Sales
Fastenal
630 Walton Dr.
Farmington
MO
63640
573-756-0368
Drop Off Repair and Sales
Fastenal
1307 Business 54 South
Fulton
MO
65251
573-642-7282
Drop Off Repair and Sales
Fastenal
2069 Industrial Valley Park Dr.
Hannibal
MO
63401
573-231-0880
Drop Off Repair and Sales
Fastenal
123 B Industrial Park Drive
Hollister
MO
65672
417-339-1275
Drop Off Repair and Sales
Fastenal
2117 Industrial Blvd.
Jefferson City
MO
65109
573-556-6104
Drop Off Repair and Sales
Fastenal
3857 East 20th
Joplin
MO
64801
417-624-7977
Drop Off Repair and Sales
Fastenal
1224 Swift Ave.
North Kansas City
MO
64116
816-221-6770
Drop Off Repair and Sales
Fastenal
1201 SE Century Drive
Lees Summit
MO
64081
816-524-0300
Drop Off Repair and Sales
Fastenal
4710 NW Gateway
Riverside
MO
64150
816-880-4666
Drop Off Repair and Sales
Fastenal
1306 Adams St
Kansas City
KS
66103
913-233-0013
Drop Off Repair and Sales
Fastenal
2105 Kara Ct
Liberty
MO
64068
816-415-3084
Drop Off Repair and Sales
Fastenal
301 Plaza Drive
Harrisonville
MO
64701
816-884-3229
Drop Off Repair and Sales
Fastenal
10328 NW Prairie View Road
Kansas City
MO
64153
816-382-3657
Drop Off Repair and Sales
Fastenal
2704 N. Baltimore Street
Kirksville
MO
63501
660-627-2732
Drop Off Repair and Sales
Fastenal
1790 West Elm
Lebanon
MO
65536
417-532-3270
Drop Off Repair and Sales
Fastenal
701 S. Missouri Ave Ste B
Macon
MO
63552
Drop Off Repair and Sales
Fastenal
325 Larry Lane
Maryville
MO
64468
660-582-5262
Drop Off Repair and Sales
Fastenal
1390 W. Arrow St.
Marshall
MO
65340
660-831-1892
Drop Off Repair and Sales
Fastenal
214 E. Liberty
Mexico
MO
65265
573-582-0821
Drop Off Repair and Sales
Fastenal
1003 W Highway 24
Moberly
MO
65270
660-263-6020
Drop Off Repair and Sales
Fastenal
775 J Chapel Drive
Monett
MO
65708
417-236-0730
Drop Off Repair and Sales
Fastenal
12413 East Hwy 86
Neosho
MO
64850
417-455-2194
Drop Off Repair and Sales
Fastenal
1120 E. Walnut
Nevada
MO
64772
Drop Off Repair and Sales
Fastenal
380 Hwy CC, F102
Nixa
MO
65714
417-725-1476
Drop Off Repair and Sales
Fastenal
3640 Highway 67 N
Poplar Bluff
MO
63901
573-776-1246
Drop Off Repair and Sales
Fastenal
2250 N. Bishop Ave Suite F
Rolla
MO
65401
573-341-2000
Drop Off Repair and Sales
Fastenal
3211 South Limit
Sedalia
MO
65301
660-826-6035
Drop Off Repair and Sales
Fastenal
1111 Horan Drive, Suite G
Fenton
MO
63026
636-349-4405
Drop Off Repair and Sales
Fastenal
Dover
NH
3821
Drop Off Repair and Sales
Fastenal
Salem
NH
3079
Drop Off Repair and Sales
Fastenal
750 Jeffco Blvd.
Arnold
MO
63010
636-287-6148
Drop Off Repair and Sales
Fastenal
135 Hamilton Industrial Ct
Wentzville
MO
63385
636-327-0757
Drop Off Repair and Sales
Fastenal
11493 Page Service Drive
Saint Louis
MO
63146
314-991-2190
Drop Off Repair and Sales
Fastenal
1111 Horan Dr. Suite G
Fenton
MO
63026
Drop Off Repair and Sales
Fastenal
3860 Fountain Lakes Pkwy E
St Charles
MO
63301
636-925-3535
Drop Off Repair and Sales
Fastenal
2625 N Neergard Ave
Springfield
MO
65803
417-865-7347
Drop Off Repair and Sales
Fastenal
624 B Goddard Ave.
Chesterfield
MO
63005
636-536-6273
Drop Off Repair and Sales
Fastenal
1745 West 5th Street
Eureka
MO
63025
636-587-2625
Drop Off Repair and Sales
Fastenal
3520 Pear Street
Saint Joseph
MO
64503
816-279-9800
Drop Off Repair and Sales
Fastenal
830 East Young St.
Warrensburg
MO
64093
660-747-8100
Drop Off Repair and Sales
Fastenal
1201 East 5th St.
Washington
MO
63090
636-390-8806
Drop Off Repair and Sales
Fastenal
1651 Porter Wagoner Blvd
West Plains
MO
65775
417-256-2995
Drop Off Repair and Sales
Fastenal
1000 Warrenton Outlet Center
Warrenton
MO
63383
Drop Off Repair and Sales
Fastenal
409 North main Street
Amory
MS
38821
662-256-3874
Drop Off Repair and Sales
Fastenal
190 Corporate Drive
Batesville
MS
38606
662-578-6700
Drop Off Repair and Sales
Fastenal
621 Gaines Hwy
Boyle
MS
38730
662-846-1563
Drop Off Repair and Sales
Fastenal
3099 S Frontage Road
Columbus
MS
39701
662-328-5175
Drop Off Repair and Sales
Fastenal
518 Deerfield Dr.
Forest
MS
39074
601-469-0485
Drop Off Repair and Sales
Fastenal
95 Grady Road
Grenada
MS
38901
662-226-9502
Drop Off Repair and Sales
Fastenal
12440 Seaway Road
Gulfport
MS
39503
228-863-7232
Drop Off Repair and Sales
Fastenal
1517 North Main Street
Hattiesburg
MS
39401
601-544-4888
Drop Off Repair and Sales
Fastenal
102 Priester Dr.
Pearl
MS
39208
601-936-1525
Drop Off Repair and Sales
Fastenal
2900 Industrial Blvd.
Laurel
MS
39440
601-422-0660
Drop Off Repair and Sales
Fastenal
903-C South Locust Street
McComb
MS
39648
601-250-6101
Drop Off Repair and Sales
Fastenal
71 Hwy 19 N., Ste #1
Meridian
MS
39307
601-693-5336
Drop Off Repair and Sales
Fastenal
203 West Bankhead St.
New Albany
MS
38652
662-534-2464
Drop Off Repair and Sales
Fastenal
8393 Industrial Drive
Olive Branch
MS
38654
662-890-6171
Drop Off Repair and Sales
Fastenal
107 Commerce Drive
Oxford
MS
38655
662-234-9422
Drop Off Repair and Sales
Fastenal
3412 Main Street
Moss Point
MS
39563
228-475-1083
Drop Off Repair and Sales
Fastenal
1085 Stark Rd. Ste N
Starkville
MS
39759
662-324-8025
Drop Off Repair and Sales
Fastenal
139 Willowbrook Drive
Saltillo
MS
38866
662-869-2314
Drop Off Repair and Sales
Fastenal
801 South Green
Tupelo
MS
38804
662-844-5821
Drop Off Repair and Sales
Fastenal
3505 Manor Drive
Vicksburg
MS
39180
601-634-4777
Drop Off Repair and Sales
Fastenal
1518 1st Ave N.
Billings
MT
59101
Drop Off Repair and Sales
Fastenal
4016 First Avenue S.
Billings
MT
59101
406-248-1651
Drop Off Repair and Sales
Fastenal
8235 Huffine Lane
Bozeman
MT
59718
Drop Off Repair and Sales
Fastenal
5050 Harrison Ave #2
Butte
MT
59701
406-494-7755
Drop Off Repair and Sales
Fastenal
4212 North Star Blvd
Great Falls
MT
59405
406-771-1972
Drop Off Repair and Sales
Fastenal
767 Nicole Street
Helena
MT
59601
406-443-1270
Drop Off Repair and Sales
Fastenal
421 West Idaho
Kalispell
MT
59901
406-755-1880
Drop Off Repair and Sales
Fastenal
201 North Haynes St.
Miles City
MT
59301
406-232-1006
Drop Off Repair and Sales
Fastenal
3010 W. Broadway
Missoula
MT
59808
406-543-7131
Drop Off Repair and Sales
Fastenal
Blackwood
NJ
8012
Drop Off Repair and Sales
Fastenal
111O'Connor Place
Aberdeen
NC
28315
910-944-1890
Drop Off Repair and Sales
Fastenal
1954-A East Main St
Albemarle
NC
28001
704-982-2055
Drop Off Repair and Sales
Fastenal
9 Glen Bridge Road Ste. 103
Arden
NC
28704
828-684-1530
Drop Off Repair and Sales
Fastenal
841 East Dixie Dr.
Asheboro
NC
27203
336-625-2408
Drop Off Repair and Sales
Fastenal
554 Riverside Drive, Suite D
Asheville
NC
28801
828-251-7375
Drop Off Repair and Sales
Fastenal
1140 Tarrant Rd
Greensboro
NC
27409
336-691-9091
Drop Off Repair and Sales
Fastenal
41 Charlie Brown Rd Suite 3
Burnsville
NC
28714
828-682-9493
Drop Off Repair and Sales
Fastenal
2144 Hanford Road
Burlington
NC
27215
336-570-0843
Drop Off Repair and Sales
Fastenal
2738 North Graham St.
Charlotte
NC
28206
Drop Off Repair and Sales
Fastenal
2415 -A Westinghouse Blvd
Charlotte
NC
28273
Drop Off Repair and Sales
Fastenal
1022-A1 Pressley Rd
Charlotte
NC
28217
704-522-8313
Drop Off Repair and Sales
Fastenal
616 E. Westinghouse Blvd.
Charlotte
NC
28273
704-588-2973
Drop Off Repair and Sales
Fastenal
4023 Matthews Indian Trail Rd
Stallings
NC
28104
704-821-0518
Drop Off Repair and Sales
Fastenal
303 West Elizabeth Street
Clinton
NC
28328
910-590-3321
Drop Off Repair and Sales
Fastenal
51-B Carpenter Court N.W.
Concord
NC
28027
704-795-3130
Drop Off Repair and Sales
Fastenal
2810 South Miami Blvd.
Durham
NC
27703
919-316-1002
Drop Off Repair and Sales
Fastenal
108 West Edgerton Street
Dunn
NC
28334
Drop Off Repair and Sales
Fastenal
4611 Hillsborough Road
Durham
NC
27705
919-384-7600
Drop Off Repair and Sales
Fastenal
1245A Highway 17 South
Elizabeth City
NC
27909
252-337-7333
Drop Off Repair and Sales
Fastenal
502 S. Eastern Blvd.
Fayetteville
NC
28301
910-423-1616
Drop Off Repair and Sales
Fastenal
525 Withrow Rd.
Forest City
NC
28043
828-287-2166
Drop Off Repair and Sales
Fastenal
3090 W U.S. Hwy 64 Unit 110/111
Murphy
NC
28906
828-837-8999
Drop Off Repair and Sales
Fastenal
406 Vann Street
Goldsboro
NC
27530
919-778-9882
Drop Off Repair and Sales
Fastenal
2400 United Dr.
Greenville
NC
27834
252-931-9300
Drop Off Repair and Sales
Fastenal
4100 Beechwood Dr
Greensboro
NC
27410
Drop Off Repair and Sales
Fastenal
985 Carolina Ave
Washington
NC
27889
Drop Off Repair and Sales
Fastenal
932 West Andrews Ave
Henderson
NC
27536
252-431-9161
Drop Off Repair and Sales
Fastenal
1013 Old Spartanburg Rd. Ste A
Hendersonville
NC
28792
828-692-0569
Drop Off Repair and Sales
Fastenal
1000 West Fairfield Road
High Point
NC
27263
336-882-3555
Drop Off Repair and Sales
Fastenal
931 Lenoir Rhyne Blvd S.E..
Hickory
NC
28602
828-323-9153
Drop Off Repair and Sales
Fastenal
267 Center Street
Jacksonville
NC
28546
910-577-4449
Drop Off Repair and Sales
Fastenal
1407-J NC Hwy 66 South
Kernersville
NC
27284
336-992-2395
Drop Off Repair and Sales
Fastenal
3509 W Vernon Ave Units D&E
Kinston
NC
28504
252-939-1328
Drop Off Repair and Sales
Fastenal
12260 McColl Road
Laurinburg
NC
28352
910-276-0333
Drop Off Repair and Sales
Fastenal
2043 Andrew Jackson Hwy
Leland
NC
28451
910-371-2029
Drop Off Repair and Sales
Fastenal
820 South Main St.
Lexington
NC
27292
336-224-0061
Drop Off Repair and Sales
Fastenal
514 East 21st Street
Lumberton
NC
28358
910-735-0626
Drop Off Repair and Sales
Fastenal
2600 Sugar Hill Road
Marion
NC
28752
828-652-3717
Drop Off Repair and Sales
Fastenal
799 West Charlotte Avenue
Mount Holly
NC
28120
704-822-0415
Drop Off Repair and Sales
Fastenal
1063 Yadkinville Road, Suite 102
Mocksville
NC
27028
336-753-8787
Drop Off Repair and Sales
Fastenal
750 Oak Ridge Farm Hwy
Mooresville
NC
28115
704-658-1416
Drop Off Repair and Sales
Fastenal
223 Carbon City Road
Morganton
NC
28655
828-438-1043
Drop Off Repair and Sales
Fastenal
1635 A Morgan Mill Rd.
Monroe
NC
28110
704-226-9191
Drop Off Repair and Sales
Fastenal
4024 Arendell Street Ste 100
Morehead City
NC
28557
252-726-9734
Drop Off Repair and Sales
Fastenal
120 North Gilmer Street
Mount Airy
NC
27030
336-789-5587
Drop Off Repair and Sales
Fastenal
1821 Racetrack Rd.
New Bern
NC
28562
252-634-9955
Drop Off Repair and Sales
Fastenal
424 Airport Boulevard
Morrisville
NC
27560
919-465-2399
Drop Off Repair and Sales
Fastenal
8928 US Hwy 70 West Ste 300
Clayton
NC
27520
919-553-5974
Drop Off Repair and Sales
Fastenal
280 Premier Drive, Suite 101
Holly Springs
NC
27540
919-552-7092
Drop Off Repair and Sales
Fastenal
5706 A Chapel Hill Rd
Raleigh
NC
27607
Drop Off Repair and Sales
Fastenal
2300-110 Westinghouse Boulevard
Raleigh
NC
27604
Drop Off Repair and Sales
Fastenal
1636-1638 South Saunders Street
Raleigh
NC
27603
919-832-2008
Drop Off Repair and Sales
Fastenal
761 Old Farm Rd. South
Roanoke Rapids
NC
27870
252-533-0755
Drop Off Repair and Sales
Fastenal
2768 North Wesleyan Blvd.
Rocky Mount
NC
27804
252-977-7474
Drop Off Repair and Sales
Fastenal
3226 Durham Road
Roxboro
NC
27573
336-503-8001
Drop Off Repair and Sales
Fastenal
3905 Hawkins Ave
Sanford
NC
27330
919-774-3274
Drop Off Repair and Sales
Fastenal
746 Long Meadow Drive Suite B
Salisbury
NC
28147
704-647-0900
Drop Off Repair and Sales
Fastenal
203 Three Brothers Ave
Shelby
NC
28152
704-471-0995
Drop Off Repair and Sales
Fastenal
1338 N. Brightleaf Blvd.
Smithfield
NC
27577
Drop Off Repair and Sales
Fastenal
1216 West Front Street
Statesville
NC
28677
704-878-2604
Drop Off Repair and Sales
Fastenal
2225 Main Street
Tarboro
NC
27886
Drop Off Repair and Sales
Fastenal
1705 Industrial Drive
Wilkesboro
NC
28697
336-838-1490
Drop Off Repair and Sales
Fastenal
3022 North Kerr Avenue
Wilmington
NC
28405
910-350-6780
Drop Off Repair and Sales
Fastenal
8157 North Pointe Blvd.
Winston Salem
NC
27105
336-896-1049
Drop Off Repair and Sales
Fastenal
6701 Ward Blvd.
Wilson
NC
27893
252-234-9199
Drop Off Repair and Sales
Fastenal
810-A Park Avenue
Youngsville
NC
27596
919-562-7122
Drop Off Repair and Sales
Fastenal
1405 Airport Road
Bismarck
ND
58504
701-255-4408
Drop Off Repair and Sales
Fastenal
2349 3rd Ave. West
Dickinson
ND
58601
701-483-2658
Drop Off Repair and Sales
Fastenal
100 36th Street S, Ste 110
Fargo
ND
58103
701-277-0823
Drop Off Repair and Sales
Fastenal
2703 Valley Circle
Grand Forks
ND
58203
701-775-0851
Drop Off Repair and Sales
Fastenal
104 12th Avenue NW, #6
Hazen
ND
58545
701-748-2348
Drop Off Repair and Sales
Fastenal
1512 Business Loop E.
Jamestown
ND
58401
701-252-5663
Drop Off Repair and Sales
Fastenal
700 20th Ave., S.W.
Minot
ND
58701
701-839-7566
Drop Off Repair and Sales
Fastenal
502 Grace Avenue
Breckenridge
MN
56520
218-643-1800
Drop Off Repair and Sales
Fastenal
3000 2nd Avenue SW, Ste B
Watford City
ND
58854
701-842-2750
Drop Off Repair and Sales
Fastenal
2211 2nd Ave W.
Williston
ND
58801
701-774-2660
Drop Off Repair and Sales
Fastenal
2115 N. 6th St. Bay #3
Beatrice
NE
68310
402-228-1600
Drop Off Repair and Sales
Fastenal
239 S. 9th St. Ste 201
Blair
NE
68008
402-426-9122
Drop Off Repair and Sales
Fastenal
1620 East 23rd Street
Columbus
NE
68601
402-564-5131
Drop Off Repair and Sales
Fastenal
1730 East 23rd Ave.
Fremont
NE
68025
402-727-7288
Drop Off Repair and Sales
Fastenal
3006 West Old Highway 30
Grand Island
NE
68803
308-381-4876
Drop Off Repair and Sales
Fastenal
100 West J Street
Hastings
NE
68901
402-462-9700
Drop Off Repair and Sales
Fastenal
2630 E. Highway 30
Kearney
NE
68847
308-237-3301
Drop Off Repair and Sales
Fastenal
305 Heartland Dr.
Lexington
NE
68850
Drop Off Repair and Sales
Fastenal
3201 N. 23rd Street STE 1
Lincoln
NE
68521
402-476-7900
Drop Off Repair and Sales
Fastenal
1008 West B St.
McCook
NE
69001
308-345-4553
Drop Off Repair and Sales
Fastenal
706 S 11th Street
Nebraska City
NE
68410
402-874-9232
Drop Off Repair and Sales
Fastenal
608 West Omaha Avenue
Norfolk
NE
68701
402-379-0075
Drop Off Repair and Sales
Fastenal
1801 East 4th Street
North Platte
NE
69101
308-534-6900
Drop Off Repair and Sales
Fastenal
5707 F Street
Omaha
NE
68117
402-346-5597
Drop Off Repair and Sales
Fastenal
11501 Centennial Rd, Suite 600
La Vista
NE
68128
402-934-5945
Drop Off Repair and Sales
Fastenal
4139 S. 84th St
Omaha
NE
68127
402-597-3175
Drop Off Repair and Sales
Fastenal
2945 10th Street
Gering
NE
69341
308-436-9000
Drop Off Repair and Sales
Fastenal
921 N. Grant Ave.
York
NE
68467
402-362-6001
Drop Off Repair and Sales
Fastenal
29 Salt Shed Road Unit1
Charlestown
NH
3603
603-826-5823
Drop Off Repair and Sales
Fastenal
130 Hall St
Concord
NH
3301
603-225-0898
Drop Off Repair and Sales
Fastenal
Whippany
NJ
7981
Drop Off Repair and Sales
Fastenal
350 Heritage Avenue
Portsmouth
NH
3801
603-559-9350
Drop Off Repair and Sales
Fastenal
42 Production Avenue
Keene
NH
3431
603-355-8399
Drop Off Repair and Sales
Fastenal
Hauppauge
NY
11788
Drop Off Repair and Sales
Fastenal
198 Riverside Drive
Littleton
NH
3561
Drop Off Repair and Sales
Fastenal
3 Perimeter Road, Unit #2
Manchester
NH
3103
603-625-9194
Drop Off Repair and Sales
Fastenal
7 Pittsburgh Avenue
Nashua
NH
3062
603-889-1657
Drop Off Repair and Sales
Fastenal
45 Allen St
Rochester
NH
3867
603-332-1331
Drop Off Repair and Sales
Fastenal
8 Commerce Avenue Suite 2
West Lebanon
NH
3784
603-298-2188
Drop Off Repair and Sales
Fastenal
206 West Parkway Drive Unit 7
Egg Harbor Township
NJ
8234
609-645-5127
Drop Off Repair and Sales
Fastenal
421 Rt. 73 and Cushman Ave.
Berlin
NJ
8009
856-768-3657
Drop Off Repair and Sales
Fastenal
Ithaca
NY
14850
Drop Off Repair and Sales
Fastenal
921 Route 130 N
Burlington
NJ
8016
609-239-3016
Drop Off Repair and Sales
Fastenal
28 Indian Trail Rd. Unit 101
Cape May Court House
NJ
8210
Drop Off Repair and Sales
Fastenal
140 Mt. Holly Bypass
Lumberton
NJ
8048
609-261-3111
Drop Off Repair and Sales
Fastenal
9 Corporate Dr.
Cranbury
NJ
8512
Drop Off Repair and Sales
Fastenal
500 Hartle St. Suite D
Sayreville
NJ
8872
Drop Off Repair and Sales
Fastenal
22 Meridian Road
Eatontown
NJ
7724
732-542-7533
Drop Off Repair and Sales
Fastenal
55 Carter Drive
Edison
NJ
8837
732-777-1029
Drop Off Repair and Sales
Fastenal
450 Murray Hill Parkway Unit F
East Rutherford
NJ
7073
201-460-0385
Drop Off Repair and Sales
Fastenal
68A Clinton Rd.
Fairfield
NJ
7004
973-244-0540
Drop Off Repair and Sales
Fastenal
3 Stangl Road
Flemington
NJ
8822
908-237-0445
Drop Off Repair and Sales
Fastenal
9 Basin Drive, Ste 140
Kearny
NJ
7032
973-491-2635
Drop Off Repair and Sales
Fastenal
1026 West Elizabeth Avenue
Linden
NJ
7036
908-862-8880
Drop Off Repair and Sales
Fastenal
550 Lincoln Blvd
Middlesex
NJ
8846
732-748-0140
Drop Off Repair and Sales
Fastenal
180 Gold Mine Rd. Unit1
Flanders
NJ
7836
973-691-0547
Drop Off Repair and Sales
Fastenal
1704 Taylors Lane Suite 4
Cinnaminson
NJ
8077
856-303-7691
Drop Off Repair and Sales
Fastenal
987C Jersey Ave.
New Brunswick
NJ
8901
732-246-0248
Drop Off Repair and Sales
Fastenal
7 Park Lake Road
Sparta
NJ
7871
Drop Off Repair and Sales
Fastenal
37 West Broad St.
Paulsboro
NJ
8066
856-423-3191
Drop Off Repair and Sales
Fastenal
1195 Airport Road Suite 11
Lakewood
NJ
8701
732-886-8080
Drop Off Repair and Sales
Fastenal
1875 N. Olden Avenue
Trenton
NJ
8638
609-530-0456
Drop Off Repair and Sales
Fastenal
749 N. Delsea Dr.
Vineland
NJ
8360
856-563-9929
Drop Off Repair and Sales
Fastenal
Cincinnati
OH
45245
Drop Off Repair and Sales
Fastenal
3285A Candelaria Rd. NE
Albuquerque
NM
87107
505-880-1124
Drop Off Repair and Sales
Fastenal
413 South Canal Street
Carlsbad
NM
88220
575-234-9812
Drop Off Repair and Sales
Fastenal
1306 State Rd. 209
Clovis
NM
88101
575-763-9335
Drop Off Repair and Sales
Fastenal
906 San Juan Blvd. Suite E&F
Farmington
NM
87401
Drop Off Repair and Sales
Fastenal
321 West Broadway
Hobbs
NM
88240
575-393-8831
Drop Off Repair and Sales
Fastenal
2185 West Amador Suite #4
Las Cruces
NM
88005
575-541-1933
Drop Off Repair and Sales
Fastenal
1401 W. Hwy 66
Milan
NM
87021
505-285-4227
Drop Off Repair and Sales
Fastenal
606 E. College Rd.
Roswell
NM
88201
575-625-9686
Drop Off Repair and Sales
Fastenal
3198 N. Deer Run Rd Units 2-3
Carson City
NV
89701
775-841-2260
Drop Off Repair and Sales
Fastenal
460 W. Silver Street #102
Elko
NV
89801
775-777-8536
Drop Off Repair and Sales
Fastenal
250 Logan Ln #310
Fernley
NV
89408
775-575-6907
Drop Off Repair and Sales
Fastenal
1175 American Pacific Dr Ste B
Henderson
NV
89074
702-434-2858
Drop Off Repair and Sales
Fastenal
4305 W. Reno Ave.
Las Vegas
NV
89118
702-798-7355
Drop Off Repair and Sales
Fastenal
4310 Losee Rd Suite A-3
North Las Vegas
NV
89030
702-452-6887
Drop Off Repair and Sales
Fastenal
1587 US Hwy 395
Minden
NV
89423
775-782-6101
Drop Off Repair and Sales
Fastenal
4090 McCarran Blvd Unit D
Reno
NV
89502
775-853-3278
Drop Off Repair and Sales
Fastenal
950 Bennie Lane, Unit B
Reno
NV
89512
775-329-3278
Drop Off Repair and Sales
Fastenal
1117 Gator Way
Sparks
NV
89431
775-356-2006
Drop Off Repair and Sales
Fastenal
4630 Grass Valley Road
Winnemucca
NV
89445
775-623-2917
Drop Off Repair and Sales
Fastenal
21 Railroad Ave
Albany
NY
12205
518-459-2086
Drop Off Repair and Sales
Fastenal
1580 Columbia Turnpike
Castleton
NY
12033
Drop Off Repair and Sales
Fastenal
164 Harrison Street
Johnstown
NY
12095
518-725-9541
Drop Off Repair and Sales
Fastenal
62 Columbus St. Suite 9
Auburn
NY
13021
315-255-1902
Drop Off Repair and Sales
Fastenal
5596 Route 5
Batavia
NY
14020
585-344-4680
Drop Off Repair and Sales
Fastenal
Millersburg
OH
44654
Drop Off Repair and Sales
Fastenal
Oklahoma City
OK
73127
Drop Off Repair and Sales
Fastenal
3244 union Rd
Cheektowaga
NY
14227
716-684-2293
Drop Off Repair and Sales
Fastenal
Broken Arrow
OK
74012
Drop Off Repair and Sales
Fastenal
3737 Luker Road
Cortland
NY
13045
607-758-5495
Drop Off Repair and Sales
Fastenal
1017 Grand Blvd
Deer Park
NY
11729
631-254-0675
Drop Off Repair and Sales
Fastenal
Woodburn
OR
97071
Drop Off Repair and Sales
Fastenal
1336 College Ave.
Elmira
NY
14901
607-737-9062
Drop Off Repair and Sales
Fastenal
33 Corporate Park Drive, Suite B
Hopewell Junction
NY
12533
845-897-4721
Drop Off Repair and Sales
Fastenal
437 State Route 104, Suite 7
Oswego
NY
13126
315-342-2393
Drop Off Repair and Sales
Fastenal
189 North Exchange Street
Geneva
NY
14456
315-789-1083
Drop Off Repair and Sales
Fastenal
Greencastle
PA
17225
Drop Off Repair and Sales
Fastenal
Lemoyne
PA
17043
Drop Off Repair and Sales
Fastenal
5 E. Elmwood Ave
Falconer
NY
14733
716-664-2830
Drop Off Repair and Sales
Fastenal
101 Smith Avenue
Kingston
NY
12401
845-340-1602
Drop Off Repair and Sales
Fastenal
7850 Goguen Dr.
Liverpool
NY
13090
315-652-6140
Drop Off Repair and Sales
Fastenal
4 Highland Rd Suite A
Massena
NY
13662
315-769-3278
Drop Off Repair and Sales
Fastenal
215 Guideboard Rd
Halfmoon
NY
12065
518-371-3278
Drop Off Repair and Sales
Fastenal
Reading
PA
19611
Drop Off Repair and Sales
Fastenal
315-B Roslyn Road
Mineola
NY
11501
Drop Off Repair and Sales
Fastenal
951 3rd Ave
Brooklyn
NY
11232
718-499-6836
Drop Off Repair and Sales
Fastenal
Dayton
TX
77535
Drop Off Repair and Sales
Fastenal
1600 Stillwell Avenue
Bronx
NY
10461
718-409-9411
Drop Off Repair and Sales
Fastenal
15 Grumman Road West, Suite 1600
Bethpage
NY
11714
516-261-9822
Drop Off Repair and Sales
Fastenal
3199 Lawson Blvd., Suite A
Oceanside
NY
11572
516-764-1013
Drop Off Repair and Sales
Fastenal
1961 Richmond Terrace
Staten Island
NY
10302
718-697-0238
Drop Off Repair and Sales
Fastenal
Silsbee
TX
77656
Drop Off Repair and Sales
Fastenal
#5 Jeanne Drive
Newburgh
NY
12550
845-564-1552
Drop Off Repair and Sales
Fastenal
680 Route 211 East
Middletown
NY
10941
845-692-3278
Drop Off Repair and Sales
Fastenal
6001 Porter Rd. Suite #100
Niagara Falls
NY
14304
716-298-1990
Drop Off Repair and Sales
Fastenal
311 High Street Suite 1
Bradford
PA
16701
814-362-7123
Drop Off Repair and Sales
Fastenal
107 Winney Hill Rd. Ste #3
Oneonta
NY
13820
607-431-9050
Drop Off Repair and Sales
Fastenal
4990 Camp Rd
Hamburg
NY
14075
716-646-9661
Drop Off Repair and Sales
Fastenal
613 Route 3, Suite 200
Plattsburgh
NY
12901
518-561-9291
Drop Off Repair and Sales
Fastenal
35 Patrick Lane Noxon BussPark
Poughkeepsie
NY
12603
845-486-8828
Drop Off Repair and Sales
Fastenal
36 Sawgrass Drive
Bellport
NY
11713
Drop Off Repair and Sales
Fastenal
2710 West Henrietta Rd
Rochester
NY
14623
585-424-2860
Drop Off Repair and Sales
Fastenal
6981 East Dominick St.
Rome
NY
13440
315-336-1893
Drop Off Repair and Sales
Fastenal
230 Main Street, Suite 8
Malone
NY
12953
Drop Off Repair and Sales
Fastenal
154c Sacandaga Rd.
Schenectady
NY
12302
Drop Off Repair and Sales
Fastenal
17 Boulevard
Queensbury
NY
12804
518-793-3333
Drop Off Repair and Sales
Fastenal
174 ROUTE 17 NORTH PO BOX 123
Sloatsburg
NY
10974
845-753-2630
Drop Off Repair and Sales
Fastenal
Pearland
TX
77581
Drop Off Repair and Sales
Fastenal
1500 Military Rd.
Kenmore
NY
14217
716-447-0320
Drop Off Repair and Sales
Fastenal
2150 Oriskany Street West
Utica
NY
13502
315-792-9002
Drop Off Repair and Sales
Fastenal
320 N Jensen Rd
Vestal
NY
13850
607-729-7153
Drop Off Repair and Sales
Fastenal
6280 Rt 96 Ste B
Victor
NY
14564
585-924-1910
Drop Off Repair and Sales
Fastenal
23171 Murrock Circle
Watertown
NY
13601
315-782-1200
Drop Off Repair and Sales
Fastenal
Spring
TX
77380
Drop Off Repair and Sales
Fastenal
200 Saw Mill River Rd.
Yonkers
NY
10701
914-378-0901
Drop Off Repair and Sales
Fastenal
529 Bonnewitz Avenue
Van Wert
OH
45891
419-232-4350
Drop Off Repair and Sales
Fastenal
3081 Gilchrist Suite 200
Akron
OH
44305
234-678-0711
Drop Off Repair and Sales
Fastenal
1621 Frederick Blvd.
Akron
OH
44320
Drop Off Repair and Sales
Fastenal
134 South Union Avenue
Alliance
OH
44601
330-829-9020
Drop Off Repair and Sales
Fastenal
2020 South Defiance Street Unit A
Archbold
OH
43502
419-445-8500
Drop Off Repair and Sales
Fastenal
1169 Commerce Parkway
Ashland
OH
44805
419-281-1311
Drop Off Repair and Sales
Fastenal
1404 Harmon Road
Ashtabula
OH
44004
440-992-0242
Drop Off Repair and Sales
Fastenal
742 Innovation Drive
Bowling Green
OH
43402
419-352-7977
Drop Off Repair and Sales
Fastenal
420 Winzeler Drive
Bryan
OH
43506
419-636-5800
Drop Off Repair and Sales
Fastenal
Deer Park
WA
99006
Drop Off Repair and Sales
Fastenal
443 West Logan Street
Celina
OH
45822
419-584-0223
Drop Off Repair and Sales
Fastenal
22 North Park Dr
Chillicothe
OH
45601
740-775-6436
Drop Off Repair and Sales
Fastenal
4101 Dixie Hwy
Fairfield
OH
45014
513-829-6777
Drop Off Repair and Sales
Fastenal
Burlington
WI
53105
Drop Off Repair and Sales
Fastenal
2926 Cincinnati Dayton Rd
Middletown
OH
45044
513-423-8959
Drop Off Repair and Sales
Fastenal
1212 Gest Street
Cincinnati
OH
45203
513-721-2658
Drop Off Repair and Sales
Fastenal
2529 Crescentville Road
Sharonville
OH
45241
513-759-6650
Drop Off Repair and Sales
Fastenal
1431 Glendale-Milford Rd
Cincinnati
OH
45215
Drop Off Repair and Sales
Fastenal
24897 US Highway 23 S
Circleville
OH
43113
740-474-7587
Drop Off Repair and Sales
Fastenal
561 Cleveland St.
Elyria
OH
44035
440-365-4955
Drop Off Repair and Sales
Fastenal
8240 Tyler Blvd.
Mentor
OH
44060
440-255-5032
Drop Off Repair and Sales
Fastenal
23196 Miles Rd Ste C
Bedford Heights
OH
44128
216-332-0521
Drop Off Repair and Sales
Fastenal
5545 Canal Road
Cleveland
OH
44125
216-642-4220
Drop Off Repair and Sales
Fastenal
1150 A Alum Creek Drive
Columbus
OH
43209
614-252-4120
Drop Off Repair and Sales
Fastenal
1032 Columbus Ave IndustPkwy
Marysville
OH
43040
Drop Off Repair and Sales
Fastenal
845 Claycraft Road Suite L
Gahanna
OH
43230
614-866-4163
Drop Off Repair and Sales
Fastenal
1235 Goodale Blvd.
Grandview Heights
OH
43212
614-221-4300
Drop Off Repair and Sales
Fastenal
7059 Huntley Road
Columbus
OH
43229
Drop Off Repair and Sales
Fastenal
2078 Otsego Avenue
Coshocton
OH
43812
Drop Off Repair and Sales
Fastenal
2314 Stanley Ave.
Dayton
OH
45404
937-227-3224
Drop Off Repair and Sales
Fastenal
109 Innovation Court Suite A
Delaware
OH
43015
740-369-0300
Drop Off Repair and Sales
Fastenal
24174 Jewell Road
Defiance
OH
43512
419-782-9591
Drop Off Repair and Sales
Fastenal
1325 Monroe Street N.W.
New Philadelphia
OH
44663
330-364-5600
Drop Off Repair and Sales
Fastenal
2172 US Highway 127 N
Eaton
OH
45320
937-456-2355
Drop Off Repair and Sales
Fastenal
7478 Rettig Rd.
Findlay
OH
45840
419-425-5703
Drop Off Repair and Sales
Fastenal
1615 N. River Rd.
Fremont
OH
43420
419-355-0282
Drop Off Repair and Sales
Fastenal
208 Upper River Road
Gallipolis
OH
45631
Drop Off Repair and Sales
Fastenal
5445 S State Route 49
Greenville
OH
45331
937-548-6793
Drop Off Repair and Sales
Fastenal
10051 Simonson Avenue, Suite 2
Harrison
OH
45030
513-202-0290
Drop Off Repair and Sales
Fastenal
2234 Wilson Road
Columbus
OH
43228
614-850-8488
Drop Off Repair and Sales
Fastenal
425 McCarty Ln
Jackson
OH
45640
740-288-4800
Drop Off Repair and Sales
Fastenal
1401 S. Main Street
Kenton
OH
43326
Drop Off Repair and Sales
Fastenal
2245 West Fair Ave.
Lancaster
OH
43130
740-681-9984
Drop Off Repair and Sales
Fastenal
1065 Reading Road
Mason
OH
45040
513-204-5800
Drop Off Repair and Sales
Fastenal
2400 Central Point Parkway
Lima
OH
45804
419-229-1600
Drop Off Repair and Sales
Fastenal
124 South Oak St.
London
OH
43140
740-852-1163
Drop Off Repair and Sales
Fastenal
100 Ellsworth Ave
Marietta
OH
45750
740-374-7395
Drop Off Repair and Sales
Fastenal
50 Sawyer Pkwy Suite A
Mansfield
OH
44903
419-524-7245
Drop Off Repair and Sales
Fastenal
1701 Marion Bucyrus Road
Marion
OH
43302
740-382-6844
Drop Off Repair and Sales
Fastenal
1224 Erie St. S
Massillon
OH
44646
Drop Off Repair and Sales
Fastenal
395 Tomahawk Dr.
Maumee
OH
43537
419-893-6161
Drop Off Repair and Sales
Fastenal
865 West Liberty St. Suite 240
Medina
OH
44256
330-721-7155
Drop Off Repair and Sales
Fastenal
6925 Engle Road Suite A
Middleburg Heights
OH
44130
Drop Off Repair and Sales
Fastenal
3035 Dryden Road
Moraine
OH
45439
Drop Off Repair and Sales
Fastenal
506 Harcourt Road
Mount Vernon
OH
43050
Drop Off Repair and Sales
Fastenal
1400 North Scott Street Suite 100
Napoleon
OH
43545
Drop Off Repair and Sales
Fastenal
575 W Monroe Street
New Bremen
OH
45869
Drop Off Repair and Sales
Fastenal
2337 Hebron Road
Heath
OH
43056
740-928-4037
Drop Off Repair and Sales
Fastenal
4120 Shuffel Dr. Unit C
North Canton
OH
44720
330-433-0500
Drop Off Repair and Sales
Fastenal
1795 N. Main St
Orrville
OH
44667
330-682-7586
Drop Off Repair and Sales
Fastenal
2350 East State Street
Salem
OH
44460
330-337-6798
Drop Off Repair and Sales
Fastenal
3501 Venice Road
Sandusky
OH
44870
419-621-8228
Drop Off Repair and Sales
Fastenal
641 N. Vandemark Road
Sidney
OH
45365
937-498-4700
Drop Off Repair and Sales
Fastenal
3050 South Tech Blvd
Miamisburg
OH
45342
937-886-9085
Drop Off Repair and Sales
Fastenal
810 Bechtle Ave
Springfield
OH
45504
937-322-0666
Drop Off Repair and Sales
Fastenal
742 North 7th Street
Steubenville
OH
43952
740-282-6040
Drop Off Repair and Sales
Fastenal
9100 Valley View Rd Units C & D
Macedonia
OH
44056
330-748-0214
Drop Off Repair and Sales
Fastenal
150 Benner Street
Tiffin
OH
44883
419-443-8837
Drop Off Repair and Sales
Fastenal
2717 Tracy Rd.
Northwood
OH
43619
419-666-1651
Drop Off Repair and Sales
Fastenal
17 N. 11th St
Toledo
OH
43604
419-243-4021
Drop Off Repair and Sales
Fastenal
6014A Lewis Ave
Toledo
OH
43612
419-476-2329
Drop Off Repair and Sales
Fastenal
20 Kings Chapel Drive North
Troy
OH
45373
937-440-6500
Drop Off Repair and Sales
Fastenal
205 Tarhe Trail
Upper Sandusky
OH
43351
419-209-9014
Drop Off Repair and Sales
Fastenal
1200 N. River Road NE
Warren
OH
44483
330-984-0518
Drop Off Repair and Sales
Fastenal
1270 State Route 22 NW Ste 6
Washington Court House
OH
43160
740-636-8741
Drop Off Repair and Sales
Fastenal
1369 N. Shoop Ave
Wauseon
OH
43567
419-335-0758
Drop Off Repair and Sales
Fastenal
608 Davids Drive
Wilmington
OH
45177
937-382-0102
Drop Off Repair and Sales
Fastenal
1747 Akron Rd. Suite A
Wooster
OH
44691
330-263-1065
Drop Off Repair and Sales
Fastenal
1296 Lavelle Dr
Xenia
OH
45385
Drop Off Repair and Sales
Fastenal
1083 N. Meridian Road
Youngstown
OH
44509
330-270-1745
Drop Off Repair and Sales
Fastenal
2560 E. Maysville Pike
Zanesville
OH
43701
740-453-3991
Drop Off Repair and Sales
Fastenal
420 S. Mississippi Ave.
Ada
OK
74820
580-421-9741
Drop Off Repair and Sales
Fastenal
1122 2nd Street, MAIP
Pryor
OK
74361
918-824-8558
Drop Off Repair and Sales
Fastenal
2428 Autumn Run Suite C
Ardmore
OK
73401
580-226-5083
Drop Off Repair and Sales
Fastenal
4104 SE Nowata Rd
Bartlesville
OK
74006
918-337-3757
Drop Off Repair and Sales
Fastenal
5130 N. Highway 167
Catoosa
OK
74015
918-266-8954
Drop Off Repair and Sales
Fastenal
4201 S. 4th St
Chickasha
OK
73018
405-222-2422
Drop Off Repair and Sales
Fastenal
800 East North Street
Cushing
OK
74023
Drop Off Repair and Sales
Fastenal
115 Country Club Dr.
Durant
OK
74701
580-931-3082
Drop Off Repair and Sales
Fastenal
1301 S. Eastern
Elk City
OK
73644
580-225-3219
Drop Off Repair and Sales
Fastenal
1623C E US Highway 66
El Reno
OK
73036
405-262-0471
Drop Off Repair and Sales
Fastenal
3105 North 4th Street
Enid
OK
73701
580-234-1600
Drop Off Repair and Sales
Fastenal
932 North 4210 Road
Hugo
OK
74743
580-317-9412
Drop Off Repair and Sales
Fastenal
2520 SW Lee Blvd.
Lawton
OK
73505
580-248-0731
Drop Off Repair and Sales
Fastenal
700 E. Wyandotte
McAlester
OK
74501
918-423-9444
Drop Off Repair and Sales
Fastenal
2007 A North Main
Miami
OK
74354
918-542-7062
Drop Off Repair and Sales
Fastenal
201 Eastpointe Dr
Muskogee
OK
74403
918-682-4833
Drop Off Repair and Sales
Fastenal
4150 NW 28th Ave Suite 125
Norman
OK
73069
405-573-2661
Drop Off Repair and Sales
Fastenal
1209 SE 44th St #4
Oklahoma City
OK
73129
Drop Off Repair and Sales
Fastenal
4721 N. Walnut Ave
Oklahoma City
OK
73105
405-609-1722
Service Parts and Sales
Empire Saw and Lawn
10 F Street
Empire
CA
95319
209-527-6272
Drop Off Repair and Sales
Fastenal
3110 South Meridian
Oklahoma City
OK
73119
405-686-7848
Drop Off Repair and Sales
Fastenal
521-A East Memorial Rd.
Oklahoma City
OK
73114
405-842-4844
Drop Off Repair and Sales
Fastenal
7001 S. Sooner Rd.
Oklahoma City
OK
73135
405-672-0179
Drop Off Repair and Sales
Fastenal
721 E. 23rd St
Okmulgee
OK
74447
918-759-2056
Drop Off Repair and Sales
Fastenal
1501 W. South Ave.
Ponca City
OK
74601
580-762-6935
Drop Off Repair and Sales
Fastenal
7391 State Highway 66
Tulsa
OK
74131
918-248-5100
Drop Off Repair and Sales
Fastenal
804 W. Ayre St.
Shawnee
OK
74801
405-214-1100
Drop Off Repair and Sales
Fastenal
329 E Harned Ave.
Stillwater
OK
74075
405-624-1010
Drop Off Repair and Sales
Fastenal
1590 Echota Ave.
Tahlequah
OK
74464
918-431-0877
Drop Off Repair and Sales
Fastenal
11205 East Pine Street
Tulsa
OK
74116
918-438-8422
Drop Off Repair and Sales
Fastenal
1211 South Peoria Ave.
Tulsa
OK
74120
Drop Off Repair and Sales
Fastenal
2424 West 41st Street, Suite B
Tulsa
OK
74107
918-445-4669
Drop Off Repair and Sales
Fastenal
11330 E 60th Place
Tulsa
OK
74146
918-994-6330
Drop Off Repair and Sales
Fastenal
1801 East Main
Weatherford
OK
73096
580-774-2700
Drop Off Repair and Sales
Fastenal
2626 Oklahoma Ave.
Woodward
OK
73801
580-254-5158
Drop Off Repair and Sales
Fastenal
2475 Ferry St SW
Albany
OR
97322
541-928-7326
Drop Off Repair and Sales
Fastenal
3925 Abbey Ln Ste 400
Astoria
OR
97103
503-338-5117
Drop Off Repair and Sales
Fastenal
20495 Murray Rd
Bend
OR
97701
541-330-6519
Drop Off Repair and Sales
Fastenal
97986 Shopping Ctr Ave.
Brookings
OR
97415
541-412-8265
Drop Off Repair and Sales
Fastenal
4810 Table Rock Road Ste. 102
Central Point
OR
97502
541-664-1572
Drop Off Repair and Sales
Fastenal
730 Conger Street, Suite 2
Eugene
OR
97402
541-684-0925
Drop Off Repair and Sales
Fastenal
29751 Enid Road
Eugene
OR
97402
541-688-1083
Drop Off Repair and Sales
Fastenal
1470 S.E. M St., Suite 1A
Grants Pass
OR
97526
541-472-1746
Drop Off Repair and Sales
Fastenal
80397 Hwy 395 North
Hermiston
OR
97838
541-567-3545
Drop Off Repair and Sales
Fastenal
2460 NE Griffen Oaks Dr.
Hillsboro
OR
97124
503-615-8616